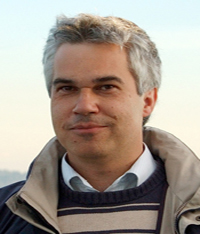 The Florida State University Department of Biological Science has named Kai Lorenzen, a faculty member at Imperial College London, as its William R. and Lenore Mote Eminent Scholar in Fisheries Ecology for 2007-2008.
Currently Imperial College's senior lecturer (associate professor) in Aquatic Resource Ecology, Lorenzen becomes the seventh consecutive visiting professor to serve as FSU's Mote Eminent Scholar. During his one-year appointment, which begins in August, he will divide his time between the Mote Marine Laboratory in Sarasota and the FSU Coastal and Marine Laboratory in St. Teresa, Fla., located about 45 miles southwest of Tallahassee.
The William R. and Lenore Mote Endowment in Fisheries Ecology and Enhancement was established for FSU's department of biological science in 1994 with a gift from the late William Russell Mote of Sarasota, a dedicated conservationist and avid fisherman. In addition to international symposia on critical marine resource issues and expanded research experiences for FSU biology students, the endowment supports collaborations between FSU and Sarasota's Mote Marine Laboratory to further the understanding, conservation and management of the world's dwindling marine fisheries.
"Kai has an enormous depth of understanding of the interactions of fish ecology, environmental change and fisheries management in both developed and developing countries, ranging from the United States to Bangladesh and Brazil," said Felicia Coleman, director of FSU's Coastal and Marine Laboratory and coordinator of Mote Endowment activities for the FSU biological science department.
"What he brings to the Mote Marine Laboratory and Florida State University partnership is an intense interest in collaboration, a strong desire to teach, and a commitment to taking his science from the field to the management arena," Coleman said.
Lorenzen's research has focused on aquatic resource systems at the interface of capture fisheries and aquaculture, with particular emphasis on fisheries stock and habitat enhancement. One of his major projects comprises the development of population dynamics theory and quantitative methods for assessing the role of enhancements within fisheries management systems.
With a master's degree in Fisheries Biology with Mathematics from Kiel University (Germany) and a doctorate in Applied Population Biology from the University of London, Lorenzen's work has combined mathematical modeling with large-scale field studies. His professional interests also include the design of management systems and the interactions between research, management practice and environmental policy.
Lorenzen has delivered the keynote address at meetings and symposia worldwide, and his research has been published in myriad scientific publications, book chapters, manuals and software packages.
"We feel honored to welcome an esteemed international scholar such as Kai, and eagerly look forward to his interactions with students and collaborations with FSU faculty over the next year," Coleman said.
The William R. and Lenore Mote Endowment in Fisheries Ecology and Enhancement was established by the Florida State University Foundation, Inc., a non-profit corporation created in 1960 and governed by an elected Board of Trustees that serves as an advocate for the university. The Foundation enhances FSU's academic vision and priorities through its organized fundraising activities and funds management.