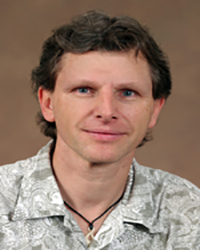 Florida State University has joined a new cooperative institute that will work with the National Oceanic and Atmospheric Administration (NOAA) to study the physics and ecosystem dynamics of the northern Gulf of Mexico.
The new Northern Gulf of Mexico Institute will study coastal hazards, climate change, water quality, ecosystem management, coastal wetlands and pollution. Besides FSU, the consortium includes Mississippi State University, the University of Southern Mississippi, Louisiana State University and Alabama's Dauphin Island Sea Lab.
"The northern Gulf of Mexico includes a rich, diverse and often unique combination of physical, ecological and recreational resources. This coastline runs the gamut of the country's most pristine to its most altered ecosystems," said Eric Chassignet, director of FSU's Center for Ocean-Atmospheric Prediction Studies (COAPS). "A vital part of the institute will be to help decision makers and management agencies understand the links between people and ecosystems in an effort to reduce the vulnerability and enhance resiliency of these systems."
Chassignet, along with William Dewar, professor and chair of the oceanography department, will lead FSU's research efforts. The FSU team will receive about $500,000 of the $6.2 million in federal funds awarded for the project this year.
The FSU scientists will study, among other things, how land and shallow-water climate conditions affect the spawning and survival of grouper in Big Bend-region seagrass beds. They hypothesize that complex interaction of precipitation, evaporation, river run-off and offshore coastal currents affect water quality, the critical delivery of larvae to the nearshore seagrass beds and the flux of baitfish to offshore breeding stocks, all of which dictate the health of the fisheries in the area.
The influx of water—whether from rain, rivers or storm surge—to the northern Gulf of Mexico affects the food sources and critical juvenile stages necessary to maintain a healthy population of grouper, which is important to the regional seafood industry, Chassignet said.
The scientists will use computer models as well as observation techniques and water samples to study the diverse set of environments characteristic of the Big Bend region, including shallow seagrass beds and deep sandy bottoms in both coastal brackish and clear water environments.
Other members of the FSU team are oceanography Professors Kevin Speer, Georges Weatherly, Jeff Chanton, Thorsten Dittmar, David Thistle and Markus Huettel; biology research associate Chris Koenig; meteorology Professors Mark Bourassa, Carol Anne Clayson and Paul Ruscher; COAPS scientists Steve Morey and Dmitry Dukhovskoy; and Felicia Coleman, director of the FSU Coastal and Marine Laboratory.
The Northern Gulf Institute joins 20 other NOAA cooperative institutes across the country. The research will support NOAA's participation in the U.S. Ocean Action Plan, the Gulf of Mexico Alliance and the Gulf Coastal Ocean Observing System, as well as the national Integrated Ocean Observing System through the Gulf of Mexico Coastal Ocean Observing System.