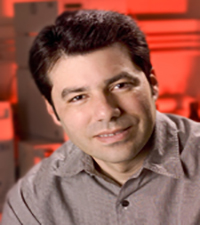 A faculty member in Florida State University's department of chemistry and biochemistry is the recipient of an unsolicited grant given each year to a rising star in the field of analytical chemistry. Assistant Professor André M. Striegel has been selected to receive the 2006 Eli Lilly Analytical Award for Untenured Faculty. The award comes with an unrestricted grant of $35,000, renewable at the same level for a second year.
A statement from the pharmaceutical giant said that "the award is being made by the Analytical Chemistry Academic Contacts Committee at Eli Lilly and Company based upon Dr. Striegel's research interests, publication record, and the impact he is making in the field of analytical chemistry. Eli Lilly's respect for the quality of research being conducted at Florida State University is reflected in the fact that Professor John Dorsey was the first recipient of this award in 1982.
"This award is a great testament to the visibility and stature of Striegel and FSU's analytical chemistry program."
Striegel described the main focus of his FSU research group's work as "trying to understand what makes polymers tick. Polymers can be very complicated structures, and we apply analytical chemistry to find out what features of natural and synthetic polymers are responsible for particular processing or end-use properties."
The unsolicited grant came as a huge surprise, Striegel said.
"The list of previous awardees is, literally, a Who's Who of analytical chemists," he said. "As such, it is both humbling and a great honor to have been chosen as this year's recipient."