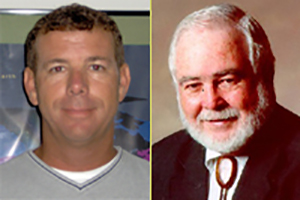 It may be dry now, but don't pack those umbrellas away just yet. It's going to be a cool, wet winter here in Florida, according to state climatologist David Zierden.
The return of El Niño—an oceanic phenomenon that occurs every two to seven years and causes worldwide changes in climate patterns—is to blame for both the dry fall and the expected wet winter, said Zierden, who also is the climate scientist at Florida State University's Center for Ocean and Atmospheric Prediction Studies (COAPS). El Niño made its last appearance in 2002-03.
El Niño is known to bring more frequent winter storms, extra rainfall and slightly cooler temperatures to Florida and coastal Alabama and Georgia, according to Robert O. Lawton Professor of Meteorology and Oceanography James O'Brien, also known as "Dr. El Niño" because of his expertise on the subject.
If stormy Florida weather conditions don't exactly conjure up images of a winter paradise, there is a bright side: El Niño should bring some relief to the drought that has plagued Florida since last winter when El Niño's sister La Niña brought warm, dry conditions to the state, O'Brien said.
Year-to-date rainfall deficits remain at more than 15 inches for Tallahassee and the western Panhandle and at about 10 inches for the rest of North Florida, according to Zierden, who said the lack of rain may delay the harvest of peanuts and cotton or reduce yields. And while average temperatures may be cooler than normal, there probably won't be any severe cold outbreaks in Florida and the Southeast this year because the strong subtropical jet stream that is typical of El Niño will block intrusions of cold arctic air masses.
The unusually warm surface temperatures of the eastern Pacific Ocean that are associated with El Niño began to appear along the equator in July, Zierden said. Because El Niño hinders tropical activity and hurricane development, the weather phenomenon actually brings drier than normal conditions—about 20 to 30 percent less rainfall—to Florida in September and October. That will begin to change in November.
"While not offering immediate relief, El Niño should help North Florida and the Panhandle improve their moisture situation in the winter months," Zierden said.