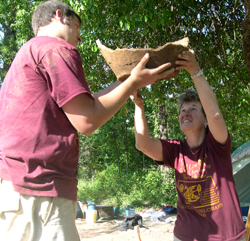 Digging on a remote hilltop in Italy, a Florida State University classics professor and her students have unearthed artifacts that dramatically reshape our knowledge of the religious practices of an ancient people, the Etruscans.
"We are excavating a monumental Etruscan building evidently dating to the final years of Etruscan civilization," said Nancy Thomson de Grummond, the M. Lynette Thompson Professor of Classics at FSU and director of the university's archaeology programs in Italy. Within the building, de Grummond's team located in early June what appears to be a sacrificial pit and a sanctuary—finds remarkable for the wealth of items they are yielding that appear to have been used in religious rituals.
Nearly every summer since 1983, de Grummond has taken groups of FSU students into Italy's Tuscany region to participate in archaeological digs at Cetamura del Chianti, a site once inhabited by the Etruscans and ancient Romans. In the final days of this year's program, de Grummond and her students unearthed what she calls "the most thrilling" find she has seen in 23 years at Cetamura.
She explained that the Etruscans, who once ruled most of the Italian peninsula, were conquered and absorbed by the Romans in the second and first centuries B.C.E. ("Before the Common Era"). Prior to that time, however, they were a highly advanced civilization that constructed roads, buildings and sewer systems and developed the first true cities in Europe. They also built large, complex religious sanctuaries—which may have been the purpose served, in part, by the Cetamura structure.
"The building has a highly irregular plan, with stone foundations 3 or 4 feet thick," she said. "One wing of the building is about 60 feet long, flanking a space that has walls running at right angles. Some walls run on a diagonal to the grid, or are curved. There are paved areas alternating with beaten earth floors and what I believe to be a large courtyard in the middle. Some of the foundations are so heavy and thick that they could easily have supported multistoried elements.
Within the building's courtyard, de Grummond said, is a freestanding sandstone platform that likely served as an altar. A few feet away, she and her students unearthed "the most fascinating find of all – a pit filled with burnt offerings for the gods.
"In all, the pit contained approximately 10 vessels, some miniature and thus clearly intended only as gifts for the gods," de Grummond said. "On the other hand, several of the vessels were quite large, including one storage vessel, probably for grain, and a huge pitcher, probably for wine. There also were little cups for drinking and a bowl for eating, as well as a small beaker of the type that holds oil or spices. All of these vessels were ceramic, some ritually broken and but with most or all of the fragments buried together in the pit. Further, most of the pots seem to be locally made rather than imported. They were offering to the gods their own special creations.
"We should be able to restore these vases and have quite a splendid array of Etruscan pottery dating from a single moment and a particular place in their history," de Grummond said.
Also of great interest to de Grummond was the discovery of some 10 iron nails deposited in the pit, all in an excellent state of preservation.
"These reflect what we know from ancient texts in Latin that note that the Etruscans treated nails as sacred, and regarded them as symbolizing inexorable fate," she said. "They had a ritual practice in regard to their deity Nurtia in which they would hammer a nail into the wall of the temple each year as a tribute to the goddess. We cannot yet be sure about the cultic significance of the nails of Cetamura, but they may well relate to the passage of time and thus to the sacred calendar of the Etruscans."
One of de Grummond's students also unearthed an Etruscan inscription on a shard of pottery that contained the name of a little-known Etruscan god, Lurs.
"Almost nothing is known about Lurs, but we may have at Cetamura some very rare evidence about his worship," she said.
De Grummond is a leading scholar on the religious practices of the Etruscans, a people whose culture profoundly influenced the ancient Romans and Greeks. "The Religion of the Etruscans," a book written and edited by de Grummond and Erika Simon, another expert in classical archaeology who served as the Langford Family Eminent Scholar in Classics at FSU in 1999, was published last spring. De Grummond soon will release another book, "Etruscan Myth, Sacred History and Legend."
De Grummond said she hopes to continue excavating the Cetamura sacred area, and building on nearly a quarter-century of knowledge that she has gathered there.
"It is a bit eerie to have excavated something so central to my own lifelong interest in the myth, religion and rituals of the Etruscans," she said. "Without a doubt, this is one of the most exciting of the discoveries I have experienced."
For previous news on Cetamura, see http://fsu.edu/news/2006/04/19/etruscan.secrets/