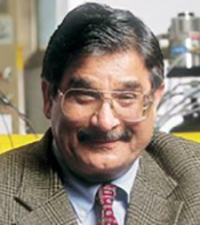 Florida State University continues to burnish its credentials as a top university for scientific research and graduate learning, a new listing of America's top academic institutions shows.
FSU's graduate program in nuclear physics is 13th in the nation, and its graduate program in analytical chemistry 14th, in rankings compiled by U.S. News & World Report in its 2007 listing of "America's Best Graduate Schools."
Each year, U.S. News ranks graduate-school programs in a variety of fields. For the sciences, deans, program directors and senior faculty throughout the United States were asked to judge the quality of programs in their field.
"It is tremendous news that U.S. News & World Report has ranked FSU's graduate program in analytical chemistry as one of the best in the nation," said Naresh Dalal, chairman of the university's department of chemistry and biochemistry. "Analytical chemistry is the analysis of samples to gain an understanding of their chemical composition and structure. Such research has great relevance for many, if not most, other areas of scientific inquiry. I am proud of how far we have come in such an important field."
David Van Winkle, chairman of FSU's department of physics, also expressed satisfaction at having his department's graduate nuclear physics program recognized as one of the best in the United States.
"FSU's nuclear physics program was established in 1958 by then-Gov. LeRoy Collins to help make Florida a full partner in a future of world-class science and high technology," Van Winkle said. "With the latest U.S. News rankings, we feel a sense of satisfaction in having reached a level of excellence that Gov. Collins would approve of."
Van Winkle also pointed to several recent accomplishments by alumni of FSU's nuclear physics program as further indications of the program's quality:
Professor Thomas Glasmacher of Michigan State University was named a co-winner of the 2006 Raymond and Beverly Sackler Prize in the Physical Sciences from Tel Aviv University in the area of theoretical or experimental nuclear/hadron physics. Glasmacher, who earned his master's degree in 1990 and Ph.D. in 1992 from FSU, was recognized for "development of new sensitive methods of studying nuclear structure, utilizing Coulomb excitation with fast beams of rare isotopes." His share of the Sackler Prize comes with a $20,000 award.
In 2005, Daniel Archer, a nuclear physicist at Oak Ridge National Laboratory in Oak Ridge, Tenn., received a prestigious R&D 100 Award for his role in the development of the Adaptable Radiation Area Monitor, a device that can detect and identify low levels of radioactive materials as they pass by, even at highway speeds. The device has received considerable interest from the U.S. Department of Homeland Security for its ability to detect possible "dirty bombs" used by terrorists. Archer received his master's degree in 1993 and his Ph.D. in 1996 from FSU.
"It is wonderful to see nuclear physics and analytical chemistry receiving the recognition they deserve as top-rank programs," said Joseph Travis, dean of the university's College of Arts and Sciences. "Many of our scientific programs have grown stronger and larger in recent years, and more of them will be attracting this kind of attention in the future. In all of our programs—science, humanities and the arts—we have set high standards for ourselves as a graduate research institution so that we can continue to attract some of the nation's best students and new faculty members."
In addition to the latest rankings, several other FSU programs also were listed in "America's Best Graduate Schools" for 2007. They are the College of Information, ranked 10th in the nation; the College of Education's higher-education program, at 13th; the department of chemistry and biochemistry, at 45th; and the College of Law, at 53rd. (See www.fsu.edu/news/2006/04/04/top.ten/ to read more.)