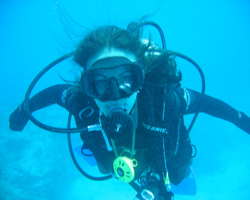 Six students in the science diving program at Florida State University Panama City have been selected to participate in a unique internship with Aquarius' NEEMO (NASA Extreme Environment Mission Operations) 9 program located in the Florida Keys National Marine Sanctuary this month.
The mission builds on the success of NEEMO 7 in October 2004 and will continue to evaluate new technologies to enhance the delivery of state-of-the-art medical care in remote and harsh environments. This mission will also help develop procedures for lunar exploration using remotely operated vehicles, tracking systems and navigation devices. Surgeons from Canada will also attempt surgical procedures using a remotely operated robot and a patient simulator. NEEMO 9 could someday contribute to the exploration of space, particularly to long-term expeditions to the Moon or Mars.
Students participating in the mission are Natasha Mashburn, Jerome Fleeman, Kelly Davis, Tony Walker, Natasha Hilginberg and Mandi Lindau. The students will be traveling to the Florida Keys in pairs, with each pair staying 10 days. The students will be utilized as full members of the team and will complete such tasks as helping with the underwater vehicles, video equipment and working on a daily basis with the aquanauts/astronauts who are leading the mission.
Craig Cooper, Florida operations director, and Mike Zinszer, FSU PC dive instructor, have been collaborating for almost three years to make this internship possible for the students. "It has been a long and patient process," Zinszer said. "We hope that having the extra help [from our students] works well for the NEEMO 9 Mission so that we can continue to bring this type of real-world experience to our students."
A live Web cam of the mission can be viewed at http://www.uncw.edu/aquarius/thumb_cam.htm.