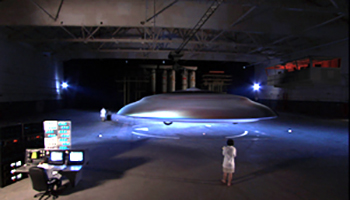 The National High Magnetic Field Laboratory and its director, Greg Boebinger, are being featured as part of a History Channel special described by its producer as "a cross between a 'NOVA' special and a 'Twilight Zone' episode."
"Alien Engineering" is a documentary produced by Workaholic Productions. Producers Luke Ellis and Matthew Hickey called on leading physicists, astronomers and engineers to guide them in an exercise in imagination. They told the scientists to imagine that a flying saucer crashed and was recovered, and then asked them to help decode the technology and figure out how the saucer runs.
Although the premise sounds very sci-fi, the purpose of the documentary is to make physics more accessible to the general public by looking at the subject in a novel way. Boebinger, who joked that he hopes his contribution is "more on the 'NOVA' side of things," worked with Workaholic Production on a similar show called "Superhero Science." He said shows such as "Alien Engineering" present an interesting opportunity to show how scientists operate.
"It illustrates how scientists approach the unknown: willing to entertain wild speculations, but ultimately requiring that they be replaced by scientific consistency that can withstand the tests of other scientists," Boebinger said.
Workaholic Productions primarily concentrates on scientific and engineering-themed documentaries.
"When we learned that The History Channel was interested in UFO-themed programming, it seemed only natural to us that we could produce a show that, through real science, examines the theoretical equipment UFOs couldn't do without," Ellis said.
"Although there's a touch of UFOlogy and a dash of science fiction, this is basically a show about physics."
The National High Magnetic Field Laboratory (www.magnet.fsu.edu) develops and operates state-of-the-art, high-magnetic-field facilities that faculty and visiting scientists and engineers use for research in physics, biology, bioengineering, chemistry, geochemistry, biochemistry and materials science. Sponsored by the National Science Foundation and the state of Florida, the lab is operated by Florida State University and its 330,000-square-foot main facility is located in Tallahassee's Innovation Park. The magnet lab also has facilities at the University of Florida and Los Alamos National Laboratory in New Mexico.
Part 2 of the two-part series airs next Monday, Feb. 13, at 8 p.m. EST. It will include a discussion of antimatter and antimatter propulsion, force field generators, and a theoretical discussion about teletransporters (think "Star Trek").
Part 1, which aired last Monday, Feb. 6 featured a discussion of antigravity and electromagnetic force fields and a trip to the magnet lab. The program airs on The History Channel. Check local listings for channels. For more information about "Alien Engineering," call Luke Ellis of Workaholic Productions at (818) 481-2953.