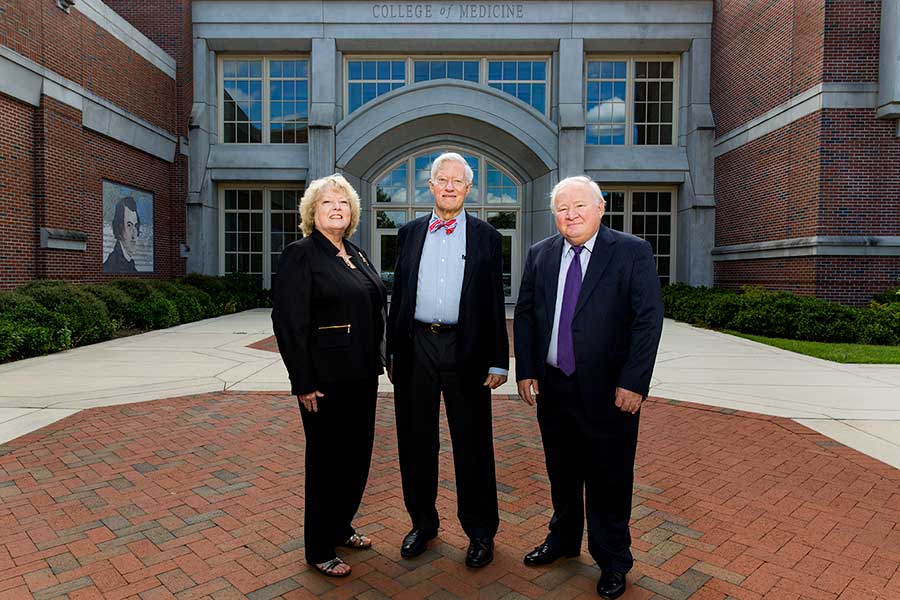 Her high school biology students in the mountainous region of North Arkansas once told a visitor of Myra Hurt, "She looks normal – but she's not."
In fact, she spent a full life refusing to act as others expected. The results were spectacular.
Myra Hurt, architect of the Florida State University College of Medicine, non-conformist, and a self-described poor girl from a rural Scot-Irish farming family, died Saturday night in Tallahassee. She was 75.
Each fall, a sign appeared outside her office door at the medical school – a playful witch on a broom and a message: "'Fraidy cats welcome."
Hurt didn't hesitate to hold others to the same set of expectations she learned as a child growing up in Arkansas.
"My family were people very strong in their values," Hurt said in her book about the medical school's creation. "They did not tolerate foolishness spoken by children. You learned to keep your mouth shut unless you had something to say, and that was a good thing to teach a child."
When Hurt spoke, people listened. By the time she was done, and against many obstacles, Florida State had the first new medical school to open in the U.S. in two decades – one of many significant accomplishments in which she was a driving force.
In 2015, at a time when most thought she was edging toward retirement, Hurt's latest epiphany resulted in a new degree program at FSU:  Interdisciplinary Medical Sciences. Today it's one of the most popular majors on campus and another tool of her design aiding the effort to meet the nation's many health-care challenges.
"As a Southern woman she knew how to tell the truth without ruffling too many feathers," said retired associate dean Helen Livingston. "There were times she had to play nice, even when she might be spitting mad. She made the most of being the best-informed person in the room."
When she was a little girl, Hurt's father was shot in a hunting accident and couldn't work for two years, leaving the McEarls to depend on the support of family and friends.
"The kids at school made fun of me because of the things I had to do without," Hurt said. "That's where I got this smart mouth of mine."
Hurt's mother, Myra McEarl, insisted her daughter would go to college. Her father, Paul, said he couldn't afford it.
"And I said to myself, 'He doesn't have to send me to college. I'm going to work my way through,'" Hurt said.
So she did.
With a biology degree from Henderson State University, she accepted a high school teaching job in North Arkansas, inviting her students to consider the wonders of science by taking new approaches. Her unorthodoxy and curiosity came naturally, inspired by spending most of her time during childhood exploring the outdoors and nature with her cousins.
Henderson State invited her to return each year to instruct interns on teaching biology through experiments (rather than simply lecturing). A professor told her she should pursue a Ph.D.
"I had never contemplated such a thing," Hurt recalled. "I thought, 'My God, how can I do that? I have a young child.' Then I began to think, 'You must find a way, Myra. This is your destiny.'"
She would eventually get a master's degree in biology from Memphis State, where she and her first child lived on a $6,000 a year grad student stipend and, with urging from another professor, went on to earn a Ph.D. in microbiology from the University of Tennessee Center for Health Sciences-Memphis.
When Hurt's husband, retired surgeon Dr. Julian Hurt, accepted a position to practice in Tallahassee in 1985 she found a position as a visiting professor in the FSU Department of Chemistry.
Bob Reeves, who served on her doctoral committee at Memphis State, was already at FSU as director of the Program in Medical Sciences (PIMS). That coincidence would prove to be fortuitous.
"There was no way you could map how I got from Hot Springs, Arkansas – where I grew up and graduated from high school – to the FSU College of Medicine, because there were so many twists and turns in my path," Hurt said.
For many years, there were only three medical schools in Florida – at the University of Florida, Miami and later the University of South Florida, which enrolled its first class in 1971.
Meanwhile, the state was rapidly growing, and many rural areas and inner-city communities were struggling to find doctors.
The Legislature, in addition to approving USF's new medical school, funded the new PIMS program to begin accepting students in 1971. Eventually increasing to about 30 students a year, the program taught basic medical sciences at FSU before students transferred to the UF College of Medicine for their final three years.  The intended purpose of PIMS was to recruit more students from rural and other medically underserved communities with the hope they would one day return home to serve those communities.
By 1992, Hurt was the PIMS director, and a year later she wrote a white paper describing a new, four-year medical school at Florida State. It was the beginning of the fight of her professional life.
A year after that, she introduced a novel program (SSTRIDE) introducing middle school and high school students to the possibility of a career in health care. Most were from families where even the idea of going to medical school one day never seemed within reach.
Hurt, in fact, did ruffle feathers when she began fighting for adequate PIMS funding, and making regular early-morning drives to Gainesville to join curriculum meetings. PIMS students began to excel and Hurt was now fully engaged with her vision of a four-year medical school at FSU.
Unbeknownst to her, Representative (and later state senator) Durell Peaden, a family physician who had practiced in then-rural Crestview outside Pensacola, was concerned about a doctor shortage in the Panhandle.
FSU President Sandy D'Alemberte championed the idea of a new medical school to attract more and better qualified science students to the university's undergraduate programs and to garner more research grant funding.
The Association of American Medical Colleges (AAMC) and the American Medical Association (AMA) weren't interested. Their Liaison Committee on Medical Education, the accrediting body, openly stated their belief the nation did not need any new medical schools – or more doctors.
Then D'Alemberte introduced Hurt to Peaden and it was game on.
The Florida Board of Regents, which at the time governed Florida's public universities, ignored a report illustrating a critical need for more primary care physicians and more doctors who would practice in rural and underserved communities of Florida.
Hurt showed up at a meeting in 1999, taking note that the reports seemed to be unopened and unread. One board member later confronted Hurt, asking why FSU needed a medical school.
"'You're asking the wrong question, but you're asking the right person,'" Hurt told him. "The real question is: Why does Florida need another medical school? And you're asking the right person because I know all of the answers – and they're all in the studies that were provided to you for this meeting!'"
Hurt explained to him the health care crisis in rural counties, big cities with urban poor and in parts of Florida where retirees were settling.
She noted the fallacy of data suggesting an adequate number of doctors in the U.S. and the great growth of older citizens, many of them migrating south. There were not enough doctors for this population redistribution.
"Thankfully, our Legislature took steps in the 1990s and early 2000s to help us prevent a real health care crisis," Hurt said. "Otherwise, things right now would be really horrible."
Former FSU President John Thrasher, Speaker of the Florida House in 2000 when Dr. Peaden's bill for a new medical school at FSU was introduced, in 2020 awarded Hurt the university's highest honor – the Westcott Medal.
"Dr. Hurt has attained a stature that will leave an indelible mark on FSU and a legacy that will last long after she ceases being a full-time faculty member and administrator at the College of Medicine," he said.
Hurt was acting dean of the College of Medicine in 2000 when it was first signed into law by Gov. Jeb Bush. She then became the dean of student affairs.
She recognized some applicants most likely to fulfill FSU's mission might need additional preparation before beginning the rigors of medical school. So, she developed the Bridge Program, which admits 10-14 students annually and provides a year of preparation and mentoring before they enter medical school.  More than 70% of Bridge alumni now in practice are providing primary care, many in medically underserved communities.
The AAMC in 2006 did an about-face, calling for a 30% increase in medical school enrollment, leading to more than 40 new medical schools across the country, including six more in Florida.
Now with 1,847 M.D. alumni – more than 1,000 of them in practice after completing residency and fellowship training – the FSU College of Medicine ranks among the top eight schools in the country for the percentage of graduates practicing in medically underserved communities. FSU is also among the top programs in the country for percentage of graduates practicing primary care and percentage who practice in their home state.
One of the universities outside Florida interested in developing an M.D. program after the AAMC's change of heart asked Hurt to create a new medical school there. She declined.
"It's too hard," she said. "You've got to put your whole heart and soul into it. It takes everything you have.  It was worth everything I had, but just once. Never again."