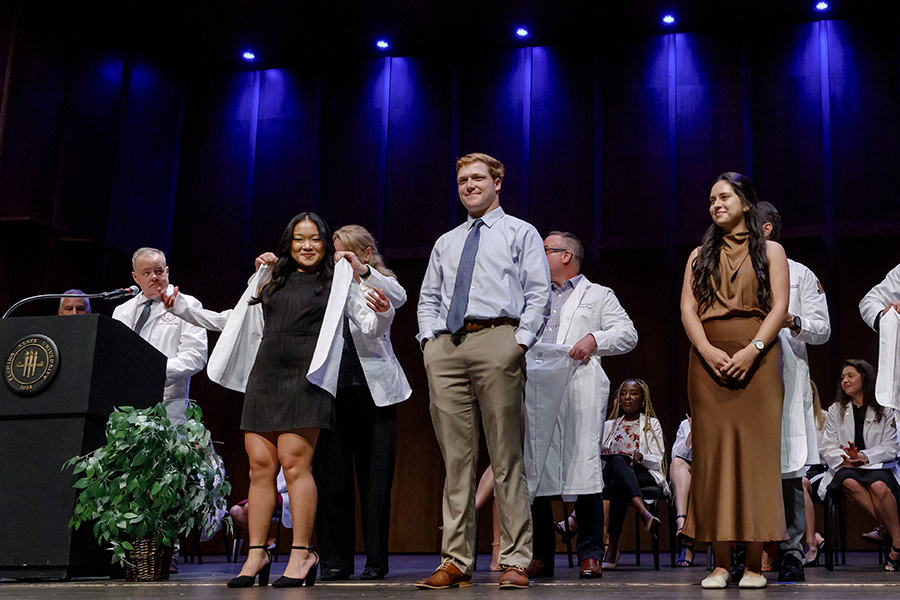 Florida State University College of Medicine students from the M.D. Class of 2027 celebrated a major milestone in their medical journeys at their white coat ceremony on Friday at Ruby Diamond Concert Hall.
Also during the ceremony, 11 members of the M.D. Class of 2024 were inducted into the FSU Chapman Chapter of the Gold Humanism Honor Society (GHHS).
As interim Dean Alma Littles explained in her welcoming remarks, it was not a coincidence that the two are held together.
"We hold these inductees up to you, first-year medical students, as an example of what we hope you will strive for," she said. "As you watch the Gold Humanism pinning ceremony, keep in mind that medicine is about more than just science and knowledge. At its best, medicine is defined by compassion and service to your fellow human beings."
Membership in GHHS is capped at 10% to 15% of a medical school graduating class, meaning inductees are the best of the best. They are nominated by faculty, staff and fellow students and selected by a committee.
Keynote speaker Alexandra "Lexie" Mannix (M.D. Class of 2014 and a GHHS member), assistant professor of emergency medicine and assistant director of residency and clerkship at UF Health-Jacksonville, told the first-year students to take time to celebrate the milestone of earning a white coat.
"FSU College of Medicine will foster your dreams the way it has supported mine," she said. "And through your hard work and dedication, you will one day do something wonderful that you never thought you could do."
She shared four "invaluable lessons" she has learned in her career:
Find yourself in medicine. Embark on a "profound exploration of yourself, your values, and your purpose. Remember that finding yourself in medicine is not a destination. It is a lifelong journey. It is an ever-evolving process of self-discovery, personal growth and professional development."
Use your privilege. Slipping into the white coat "confers upon you a unique power. The world will now perceive you differently. Your voice and opinions will carry greater weight, shaping the lives of those you encounter. As medical students and soon-to-be doctors, you have the power to advocate for change, to challenge biases and inequities, and to work towards creating a more just and inclusive health care system."
Just care. Care for your patients, your classmates, your colleagues, and practice self-care. "Care so much that you let empathy be your guiding light as you navigate through the complexities of a career in medicine."
Be like Brad. Bradford Maguire Jr., a collegiate quarterback and a member of FSU's M.D. Class of 2018, was two days from completing his residency in emergency medicine when he died in a car accident. The stories shared at his memorial service demonstrated how he touched the lives of everyone he met, "making them feel special, important, valued, seen and loved. He brought out the best in everyone through his genuine care and devotion."
"I know he would want me to tell you this on this important day," Mannix said. "Brad took almost a year off from residency, to focus on bettering himself for his son, Cal. He knew the importance of self-care and prioritized his well-being above all else. His legacy serves as a powerful reminder that even those of us who seem the strongest and brightest still need support. Strive to be like Brad — caring, compassionate and unwavering in your pursuit of excellence."
Once the future doctors had been "coated," Littles returned to the podium and said, "Suddenly, you look so doctorly!"
Jack Kramer, president of the Medical Student Council, then led 119 members of the Class of 2027 in a student oath.
After recognizing second-year medical students who served as tutors for the Class of 2027 this summer, as well as the simulated patients who helped them learn how to interview and interact with patients, Littles had some encouraging words for the students: "One semester down, only 10 semesters to go. We'll see you in 10 days."