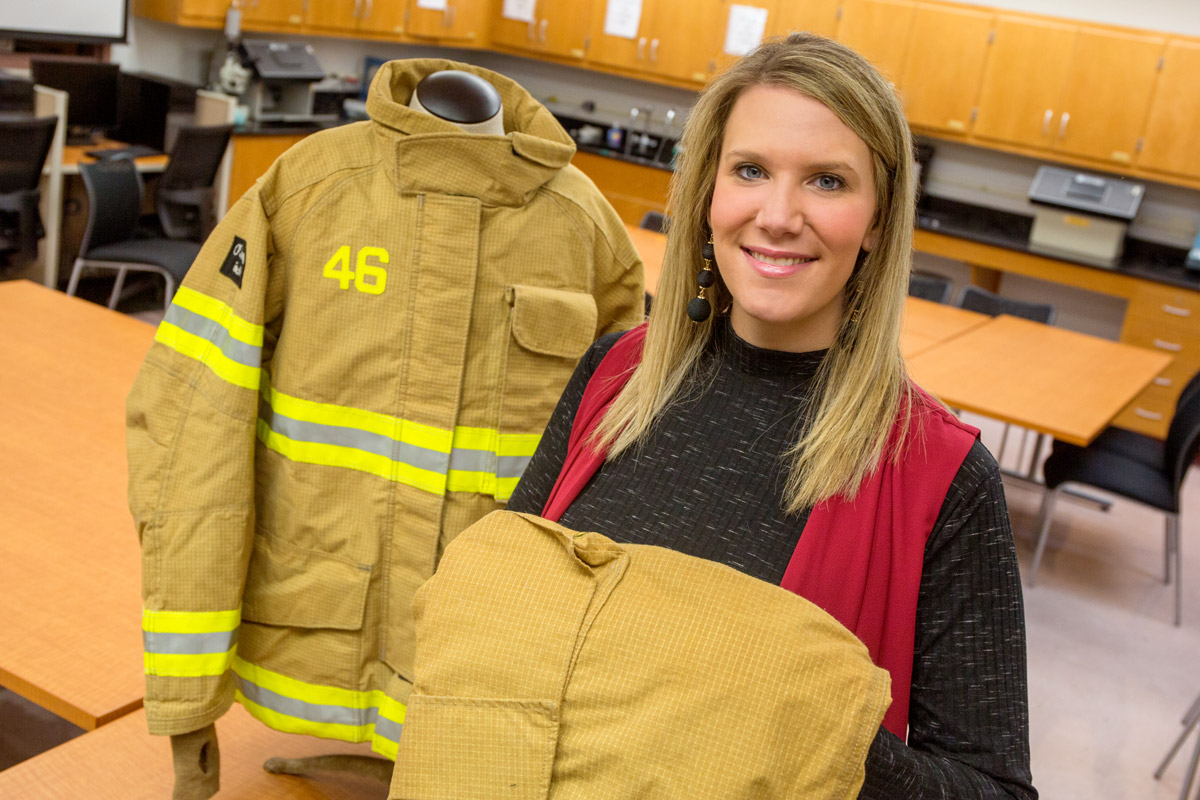 Technology breakthroughs in clothing materials and design have benefited all of us, but perhaps none more so than first responders.
Burn injuries among firefighters have plummeted in the past decade. There's just one problem: cases of heat stroke, exhaustion and cardiac arrest deaths have spiked upward because protective gear is much more insulated.
New research from Florida State University Assistant Professor Meredith McQuerry, an expert on protective clothing for first responders, aims to shape the design of that gear to maximize protection and minimize heat buildup.
"Clothing manufacturers have worked to improve burn protection by bulking up firefighting suits, but more attention should be paid toward optimizing the balance between protection and physiological comfort," said McQuerry, a faculty member in FSU's new Retail Entrepreneurship program at the Jim Moran School of Entrepreneurship.
McQuerry's research study, published in The Journal of the Textile Institute, will inform the National Fire Protection Association as it revises and adopts new standards for protective clothing.
The basic firefighting "turnout suit" is composed of a three-layer composite — outer shell, moisture barrier and thermal liner. Over the past decade, that basic suit has undergone a monumental evolution with extra layers, padding and reinforcements.
McQuerry studied whether nonessential reinforcements and additional fabric layers in firefighting suits could be removed to improve breathability without sacrificing burn protection.
Additional layers and bulky reinforcements diminish the physiological comfort of firefighters. By removing those extras that "bulk up" the suit, McQuerry determined the risk of heat strain was lower.
The research team dissected four main firefighting suits: lightweight, standard, heavy duty and passive vent. The number of protective layers ranged from three to more than 11 in some suits, such as the heavy-duty gear. That version also incorporated thick, fire-retardant foam composites for extra protection.
Researchers conducted tests on what's described as a "sweating thermal manikin" to document the ability of each suit to vent heat and allow moisture evaporation. The manikin, equipped with 34 sensors replicating zones in the human body, measured the clothing's breathability — essentially its ability to allow dry and wet heat to pass through the layers. That data allowed researchers to predict fluctuations in skin temperature, sweat rate and core body temperature.
The results showed firefighting suits with excessive reinforcement layers were worst at transferring interior heat, especially the heavy-duty suit with its bulky, foam reinforcements. It trapped air and moisture near the body, reducing sweat evaporation and increasing body temperature. Predicted core body temperature in that gear soared to 105.5 degrees Fahrenheit, which would put a firefighter in grave danger and potentially be fatal.
Other results included a steep rise in predicted sweat rate. The heavy-duty suit reached the maximum allowable rate at 51 minutes into the 90-minute protocol, nearly 10 minutes faster than the other suits.
Researchers also documented the extra weight created by additional protective layers. On average, a standard coat, pants, boots, gloves and helmet weigh about 50 pounds. Adding tools or thermal-imaging gear to the ensemble increases the load to around 100 pounds, a factor that exacerbates heat strain in stressful and physically demanding situations.
The team's findings prompted them to explore a modular clothing system that would add or subtract layers based on the activity or environment. However, a modular clothing system would come with its own complications because firefighters always have to be prepared for a worst-case scenario. Often, they're moving quickly from one scene to another, and the next one might require extra protection.
"That's the challenge for future research," McQuerry said. "How do we create a modular garment that works with a department's tactics, could easily be reconfigured, and how do you ensure those interior layers are deployed properly?"
McQuerry's team has tested a modular-ensemble prototype and continues that research.