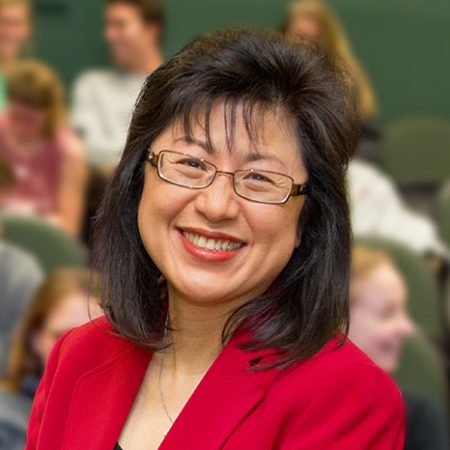 A Florida State University College of Nursing faculty member has been selected for induction as a fellow into the prestigious American Academy of Nursing.
Ying "Mai" Kung is one of 173 highly distinguished nurse leaders who will join more than 2,500 academy fellows of distinguished clinicians, researchers, policy leaders, educators and executives from around the globe.
"It is truly an honor to be selected for induction as a fellow in the American Academy of Nursing," Kung said. "My goal has always been to make a difference by improving patient care and strengthening the nursing profession through unity.  I am excited about the opportunity to work with other exceptional nurse leaders from around the world. I know that together we will make a difference by advancing health policy and nursing practice."
Kung will be inducted during the academy's annual policy conference Oct. 7 in Washington, D.C. She will join FSU colleagues McFetridge-Durdle and Endowed McKenzie Professor John Lowe as fellows in the American Academy of Nursing.
"The College of Nursing is delighted with Dr. Mai Kung's selection for induction into the American Academy of Nursing," said Judith McFetridge-Durdle, dean of the College of Nursing. "Dr. Kung has made significant contributions to the healthcare field through her tireless work in health policy. The College of Nursing is very proud of her accomplishments and this prestigious recognition."
Kung is passionate about influencing and shaping health policy with a mission to "improve healthcare access by removing outdated, unnecessary practice barriers placed on advanced practice nurses."
Her work in the area of political advocacy has had a significant impact at the state and national level. Kung's efforts have directly contributed to the passage of state regulations and laws, such as advanced practice nurses (APNs) gaining DEA prescriptive privileges and Baker Act authority.
As a result, Kung was recognized by the Florida Action Coalition (FL-AC) and the Florida Center for Nursing as one of the 50 most influential state leaders for nursing.
Kung is a leader for professional nursing organizations and community boards. She serves as the north central region coordinator for the Florida Action Coalition and as an American Association of Colleges of Nursing (AACN) Faculty Policy Fellow.
She works with state and national association leaders influencing health policy through the Florida Coalition of Advanced Practice Nurses (FLCAPN), and she served as a president of the Tallahassee area Council of Advanced Practice Nurses and as a chair of the Havana Health and Wellness Center.
In addition, Kung is an author, public speaker and researcher. She has published in professional journals and presented in local, regional, national and international conferences.