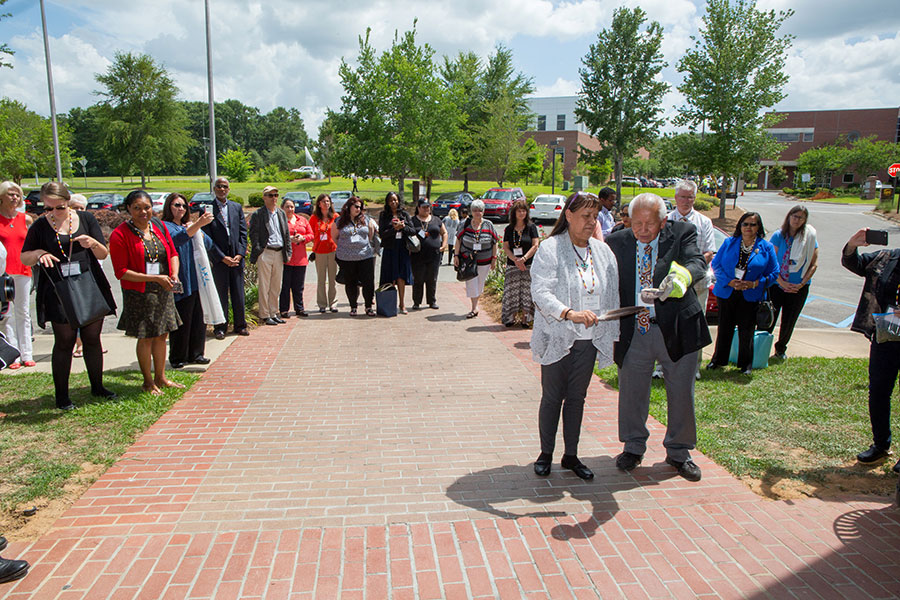 Indigenous populations around the world experience high levels of health issues such as obesity, cardiac disease, diabetes and substance abuse — and Florida State University is tackling these problems head-on by going straight to the source.
FSU hosted nursing researchers from across the globe to discuss these common healthcare themes in indigenous communities and why nurses are catalysts in solving these complex issues.

The FSU College of Nursing's new Center for Indigenous Nursing Research and Health Equity (INRHE) held the 2017 International Indigenous Nursing Research Summit May 18-19 in Tallahassee. It was the first nursing conference of its kind.
More than 100 indigenous nursing researchers and community leaders from Australia, Canada, Panama and Peru, as well as Native Americans, Alaska Natives and Native Hawaiians gathered at the summit to seek ways to redress the health imbalances that have disadvantaged native peoples for generations.
"People are so excited. That's why they are coming from everywhere — because they've never had a unified hub to do their research through," said John Lowe, the McKenzie Professor in Health Disparities Research and director of INRHE. "I think this will launch all kinds of possibilities."
Lowe is a Cherokee Native American tribal member and one of only 23 Native Americans with a doctorate in nursing. He is the visionary of FSU's first-of-its-kind center focused on indigenous nursing. He hopes this week's summit will facilitate connections and research projects between the different indigenous communities that will be represented at the conference.

"Indigenous nurses usually are in every community, and they know the health issues," Lowe said. "They're usually much more holistic and understand the culture because nurses — whether indigenous or not — have been there longer than any other healthcare provider. So, they are trusted more. We're at the forefront. We've been in the trenches."
Nurse scientists along with researchers from other disciplines — such as social work — presented on topics ranging from the history of indigenous nursing to suicide prevention.
"I think it is very valuable to us that we have other disciplines involved and they can talk about how nursing research has been valuable to them," Lowe said. "We can't do things in a silo — it has to be very transdisciplinary."
Patricia A. Grady from the National Institutes of Health delivered Friday's keynote address. She has served as director of the National Institute of Nursing Research (NINR) since 1995.
"It is a combination of research, training and care that will result in health equity," Grady said. "The center here will be a national treasure. It will set the tone."
The visit from Grady helps give national visibility to FSU's center.
"This is an exciting new era for the FSU College of Nursing," said Judith McFetridge-Durdle, dean of the College of Nursing.
The theme of the summit was "honoring our past, present and future" and included a luncheon honoring Betty Mae Jumper, who worked as a nurse before serving as the first female chief of the Seminole Tribe. Jumper, who died in 2011, received an Honorary Doctor of Humane Letters degree from FSU in 1994. Her son, Moses, spoke at Friday's event honoring his mother.
"We always honor our past," Lowe said. "We always acknowledge our elders. We honor them because all of our ancestors really fought. We are a story of survival. At one time, North America had over 100 million indigenous people. In a few hundred years, we're down to about 5.4 million."
Effects from colonization — that happened centuries ago — are still prevalent among indigenous populations around the world. Through research, Lowe wants to find out why, and then help these communities move forward.
"We don't have to live in that trauma, but it has impacted who we are," Lowe said. "It also gives understanding of who we are and an understanding of what we don't ever want to happen again. We must talk about it with our youth."
Lowe's elder — Chief Jim Henson of the United Keetoowah Band of Cherokee Indians — gave a traditional Native American blessing during a dedication of the future site of the INHRE located on FSU's southwest campus. Henson is internationally recognized for his work in substance abuse prevention.
Lowe believes the location in Innovation Park near FSU's other world-class research centers will speak volumes about the work they are doing.
"I think that will give FSU Nursing a certain presence that we are just as visible as the other major research centers," Lowe said. "When we bring in organizations like the NIH, they'll see we are in that research environment right down the street from the MagLab. That shows our value."