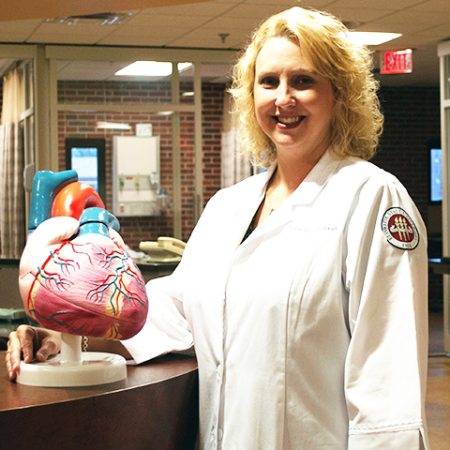 TALLAHASSEE, Fla. —A Florida State University researcher was named a finalist for the Heart Failure Society of America's Nursing Investigator Award for her study identifying predictors of depressive symptoms and poor self-care behaviors in heart failure patients.
Lucinda J. Graven, an assistant professor in the College of Nursing, investigated the relationships among heart failure symptom severity, social support, social problem-solving, depressive symptomatology and self-care behaviors in individuals with heart failure.
The study, "The Influence of Social Support and Social Problem-Solving on Depressive Symptomatology and Self-care Behaviors in Individuals with Heart Failure: A Structural Equation Modeling Study," is scheduled to be published in the American Journal of Health Behavior in January 2015. The pilot study portion will be published in the peer-reviewed journal, Home Healthcare Nurse, next month.
Graven was one of five finalists who competed for the Nursing Investigator Award at the HFSA's Annual Scientific Meeting Sept. 16 in Las Vegas, where she presented her research.
"There are over 5.8 million people living in the United States who suffer from heart failure," Graven said. "One of the things we know from the research is that in patients with heart failure, upwards of 50 percent of those people suffer from depression or depressive symptoms. We also know in heart failure patients over the age of 65 that heart failure is one of the leading diagnoses for hospitalizations."
The study examines psychosocial variables, particularly social support, and how patients perceive their social network, as well as social support availability. The statistical method structural equation modeling allowed Graven to look at the relationships between all of these variables in one single analysis.
"It's important to look at both of those aspects when trying to discern what could potentially lead to these poor outcomes," Graven said.
In addition, Graven studied social problem solving in patients, and how they perceive their problems, or problem orientation. The study evaluated how patients appraised their problems, their problem solving styles and their impacts on outcomes.
"It was very important to see how they solve problems in a real world environment and if that potentially predisposes them to either depressive symptoms or poor self-care," Graven said.
As a precursor to the actual study, Graven completed preliminary psychometrical analyses for a new social network instrument that she developed and hopes to expand and test in individuals with various chronic disorders.
Graven was honored to be included in a group of premier heart failure research scientists.
"These are nurses well known nationally and internationally," Graven said. "I'm honored to have competed against two of my heroes for this award."
Graven, who recently earned a doctorate from the University of Alabama-Birmingham, joined the Florida State faculty in 2008. She received Capital Regional Medical Center's Nurse of Excellence Award for Florida State's College of Nursing last spring.
The Heart Failure Society of America, Inc., represents the first organized effort by heart failure experts from the Americas to provide a forum for all those interested in heart function, heart failure and congestive heart failure research and patient care.