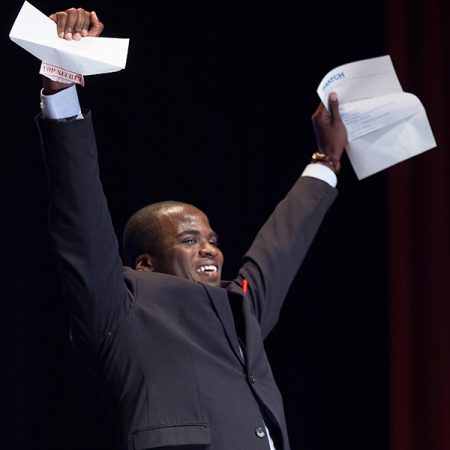 Graduating students in the Florida State University College of Medicine Class of 2014 received notification today of where they will enter residency training this summer.
Fifty-nine of the 113 students (52 percent) who matched with a residency program did so in a primary care specialty — internal medicine, family medicine, pediatrics or obstetrics/gynecology.
Other students matched in emergency medicine, general surgery, neurology, orthopedic surgery, ophthalmology, otolaryngology, psychiatry, anesthesiology and dermatology.
Seventeen students matched in family medicine, including one with the FSU College of Medicine's new family medicine residency program at Lee Memorial Hospital in Fort Myers. This is the first year that program, which will welcome its first residents in July, participated in Match Day.
Seven students matched in Tallasee — six with the College of Medicine's internal medicine residency program at Tallasee Memorial Hospital and one with TMH's family medicine program.
"We've placed a great deal of empis on trying to create more graduate medical education opportunities in Florida and I think we're starting to see the effects already," said John P. Fogarty, dean of the College of Medicine. "We kept six more of our graduates in Florida with our new internal medicine program at TMH and overall the number of grads leaving the state is lower than it been in the past several years. That's a trend we'd like to see continue."
Forty percent of the students who matched did so in Florida, a state that ranks 44th nationally in the number of available residency slots.
The residency match, conducted annually by the National Resident Matching Program, is the primary system that matches applicants to residency programs with available positions at U.S. teaching hospitals. Graduating medical students across the country receive their match information at the same time on the same day.
This FSU College of Medicine class will be the 10th to graduate from the medical school, which first enrolled students in 2001.
For information about Florida State's Match Day history, visit http://med.fsu.edu/index.cfm?page=alumniFriends.whereTheyMatched.
To see where past College of Medicine graduates are practicing, visit https://public.med.fsu.edu/alumni/alumni.aspx?class=2005.