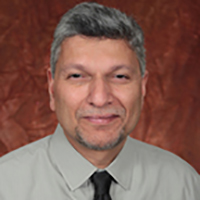 A Florida State University researcher is making major strides on a new drug that could treat attention deficit hyperactivity disorder (ADHD) without addictive side effects.
"If we are successful, it will be the first safe ADHD drug on the market," said Pradeep Bhide, director of the Center for Brain Repair at Florida State University.
Bhide, a 2013 Fall GAP award winner, received $50,000 from the university to further his research on the promising new drug.
Bhide's research into ADHD actually began in the mid-1990s when he was studying the role of dopamine, a neurotransmitter, in the fetal brain at Massachusetts General Hospital. Two colleagues at the hospital, Dr. Joseph Biederman and Dr. Tom Spencer, who specialize in pediatric psychiatry, began working with him and turned the focus of his research to the low dopamine levels frequently found in ADHD patients.
Their partnership continues today as they pursue a drug to treat ADHD in children and adults that is not addictive. Current ADHD drugs use highly habit-forming stimulants or have other undesirable side effects. Spencer noted that the addictive nature of current ADHD drugs can cause people who need treatment to avoid them due to the negative side effects.
"Their reputation is quite horrendous," he said.
Bhide has been conducting preliminary testing on an existing drug compound. The results, so far, have been positive and he and his colleagues predict that more widespread testing will show that the compound will raise dopamine slowly, but not to an addictive level.
That means ADHD could be treated in a safer and more effective way.
Bhide and Spencer also believe longer term studies will show that tweaks to that original compound can create a medicine that will last up to two weeks – most ADHD drugs last only eight to nine hours — and not have the addictive properties of other drugs currently on the market.
This is the second time Bhide has received money from Florida State to further his ADHD work, but his research is starting to generate interest from private enterprises as well.
Drug research is slow though, requiring years of testing and laboratory work. If the studies go as planned, Bhide said it could still take a number of years to bring the drug to market.
But from Spencer's perspective, the possibility of a safer drug for patients could be a game changer.
"More is better," he said. "You want a bunch of different options because you never know how someone is going to react to a given type of drug. To have something new and different is very exciting."
To learn more about Bhide and his research, visit the Florida State University Center for Brain Repair.