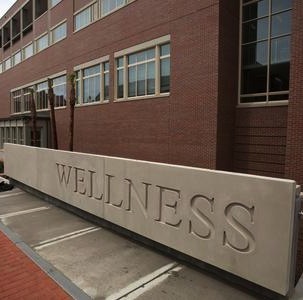 Florida State University students who stream into the atrium of the campus's new, 170,000-square-foot Health and Wellness Center aren't just there for the usual treatment of sore throats and sprained ankles.
The light-filled building has ample space for advanced medical care. But unlike its predecessor, Thagard Student Health Center, the new Health and Wellness Center includes classrooms, research laboratories, even physical therapy and athletic training — all under one roof.
The Health and Wellness Center was a decade in the making and ambitious in its collaborative goals, said Lesley Sacher, director of University Health Services, which is a partner in the facility.
"This is a grand experiment in an environment where resources are shrinking," Sacher said. "We asked ourselves: If we put the students at the center of the service wheel, how can 'like' departments come together and make this as multi-purpose as possible?"
As a result, the center not only fulfills its mission of providing first-rate care for students but its classroom spaces are booked and its labs play host to health-related research — including a concussion clinic that will allow Florida State athletic training students to study the sports-related injury in a College of Medicine research project.
In addition to University Health Services, partners in the Health and Wellness Center are the College of Nursing, Campus Recreation and the College of Human Sciences. They have collaborated in myriad ways — from staffing to academics — to maximize the center's offerings.
A new Priority Clinic will help students get more effective treatment; additional clinic space will provide an additional 50 appointments per day during the first semester of operation, which began Aug. 27. Ultrasound and digital radiology services will also be expanded, and a partnership with Tallahassee Memorial Hospital's Diabetes Resource Center has grown as well.
"Our capacity for care has increased through additional examination rooms," Sacher said. "Each department is able to dedicate several exam rooms per clinician to be more efficient."
The Health and Wellness Center also features a nursing triage clinic for same-day appointments and a healing garden for personal reflection. And an urgent-care dispensing system soon will be available to students who do not have transportation to off-campus pharmacies.
The new center provides significant and technology-rich student space for graduate assistants and undergraduates working in health promotion and health policy — yet another bonus not found in a traditional student health center.
"We dreamed about a facility that would promote a sense of well-being and that would address a student's intellectual, emotional, physical and spiritual development," Sacher said.
The new facility replaces Thagard Student Health Center, named simply the Student Health Center when it opened its doors in 1966. In the years after the construction of Thagard, student enrollment at FSU swelled from 15,000 in 1966 to about 40,000 this semester.Each floor of Thagard had to be renovated in the 1990s and 2000s to adapt to new code requirements, the advance of technologies and utilization changes.
By 2001 it was clear that student growth was outstripping University Health Services' ability to provide service to the campus community, and plans for the Health and Wellness Center began.
For more information about the Health and Wellness Center, contact Sacher at (850) 644-8869 or lsacher@fsu.edu.