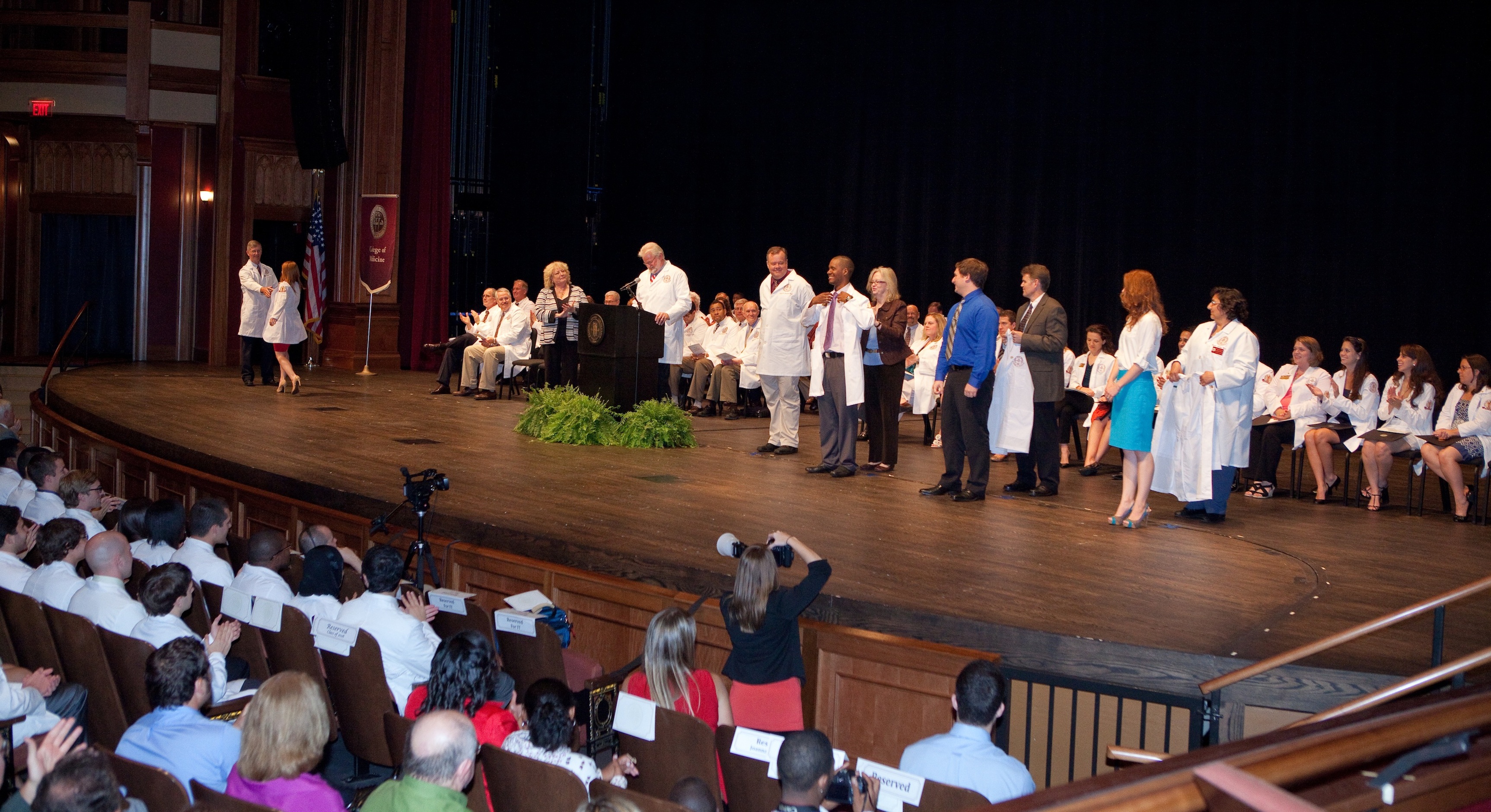 Some medical schools' first-year students have been waiting all summer for fall classes to begin. But at the Florida State University College of Medicine, the Class of 2016 already has wrapped up one semester, conquered the anatomy lab and begun wearing the timeless symbol of the profession: the white coat.
At the White Coat Ceremony in a jam-packed Ruby Diamond Concert Hall, one by one the 120 students were helped into their coats. Surrounded on this rainy evening by teary-eyed parents, smiling faculty members and wailing babies, the students were repeatedly reminded that this is not just any garment, not just any profession.
"Patients trust you," said the featured speaker, Dr. Luckey Dunn, dean of Florida State's Daytona Beach Regional Campus. "You have to be worthy of that trust . . . . You make a difference one patient at a time." Telling them that they'd be entering a fast-changing medical world, he added: "What never changes is the value of a compassionate, competent physician."
Speaking without a script, Dunn cracked up the audience with a story about a cantankerous patient who monopolized his time — until he figured out how two quarters could solve his problem. Retelling it here wouldn't do it justice. But you can see him tell the story if you watch the White Coat video.
Included among the students in new white coats was Dunn's son, Clint. He was one of six students who were "coated" by their physician relatives. Danny Miller, for example, was coated by his brother, Dr. Javier Miller Jr., an alumnus of the inaugural Class of 2005.
Before the white coats took center stage, 14 fourth-year students were officially inducted into the Gold Humanism Honor Society: Jason Boothe, Laura Davis, Amy Haddock, Zachary Hale, Brittany Jackson, Jennifer Owen, Shannon Scott, Shawn Shah, Joshua Smith, Heather Staples, Cindy-Sue Turco, Melissa Velarde, Sarah Weaver and Claudia Zapata. (Two inductees, Zach Folzenlogen and Austin Henkel, were unable to attend.)
Boothe provided one of the evening's most memorable moments when he performed a poem he had written from his medical student experiences. "I saw . . . I watched . . . a person . . . die today," he began. ". . . I can't stop thinking I'm the one who failed! . . . How Cold and Lonely Death must be." (See the complete poem below.)
The Class of 2016 is the 12th in the young medical school's history. The College of Medicine takes great pains to diversify its student body to help meet Florida's need for a more diverse physician work force. The college even works with middle and high schools to seek out and support prospective medical students who might return to their hometowns to practice.
More than any previous class, this one illustrates the effectiveness of those efforts. More than 20 percent of the students were admitted through College of Medicine outreach programs, resulting in a remarkable degree of diversity: Thirty-seven percent of the class is minority (13 percent black, 12 percent Hispanic, 11 percent Asian/Pacific Islands and 1 percent Native American).
College of Medicine Dean John Fogarty thanked all who attended for supporting their favorite students – and jokingly warned the families not to seek medical advice from them just yet.
Below is the full text of Jason Boothe's poem. To get the full effect, you owe it to yourself to watch the White Coat video
Life
I saw . . .
I watched . . .
A person . . . die today
She seemed confused
As if she wondered why I stared at her that way.
Momentary gasps of air
Escaping her lungs
Were the only sounds heard.
Neither one of us said a word.
Eyes glossy, skin dry, body frail
I remember my attending telling me, one day soon,
He thought her major organs would fail.
But I can't stop thinking
I'm the one who failed!
Blessed with what gift,
My hands are now useless,
She gripped my fingers with the little
Strength she had remaining
As I found myself refraining,
Or simply holding back tears.
All of a sudden all of my fears hit me at once.
I could do . . . nothing
Nothing in years one or two
prepared me to do anything like this.
Years three and four didn't prepare me for much more
Nothing more than life.
Death wasn't a part of the plan.
Now I stand silently holding this woman's hand
Thinking God why does she have to die,
I don't understand.
Will I ever understand?
How Cold and Lonely
Death must be.
I don't even think this woman has a family
It's . . . just me.
Over the past two and a half weeks
I've become her son.
No not just her resident, not just her doctor
I've become a part of her
As if I exited her womb
And I knew someday soon
I would have to watch as my mother dies
Consumed by pain,
How will I ever be the same?
Will I ever be the same?
I just kept thinking
To save this woman's life
There simply must be another way
Because truly, I don't ever want to say,
I watched another person die . . . today.
By Jason A. Boothe