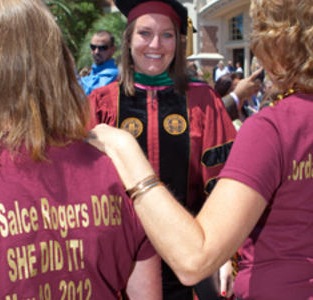 The Florida State University College of Medicine filled Ruby Diamond Concert Hall on May 19 with a commencement ceremony in which it graduated 117 new physicians. The graduating class is the largest in the college's 11-year history. Twenty-seven students graduated with the first class in 2005.
Among the new physicians is Dr. David Castillo, former team captain and starting center for the Seminoles under Coach Bobby Bowden.
Dean John P. Fogarty, M.D., thanked the graduating class for its role in helping the College of Medicine successfully complete its application for reaccreditation in 2011. He also praised the class for being the first from Florida State to have a 100-percent first-attempt pass rate on the rigorous United States Medical Licensing Exam Step 2, which takes place early in the fourth year of medical school.
Nationally, about 95 percent of medical students who take the exam pass on the first attempt. All of FSU's medical students passed on the first try in both the clinical skills and clinical knowledge portions of the exam.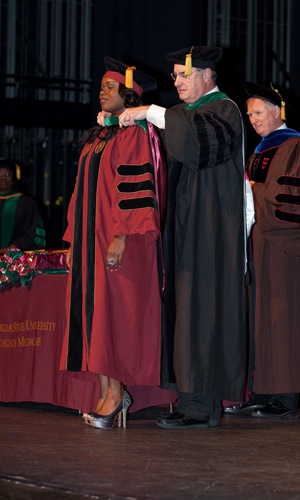 "As you start your residency training I want you to remember that you represent a new innovative medical school, a school founded on the principles of patient-focused care and community-based training," Fogarty told the graduates. "You have thrived in that environment and validated the vision of the founders of this innovative model."
Charles Ouimet, professor and faculty scholar in neuroscience at the College of Medicine, delivered the commencement speech. Ouimet, whose son was in the medical school's first graduating class, combined his sense of humor and deep appreciation for the sacrifice needed to complete medical school into an emotional speech that brought the students to their feet.
"I'll never forget the first day," Ouimet said. "I wanted to review how the spinal cord is divided up into numbered segments. Instead of saying cervical 8, thoracic 12, lumbar 5, sacral 5 and coccygeal 1 — I abbreviated and said C8, T12, L5, S5, C1 and suddenly David Castillo hiked a football at me. To make matters worse, students from UF and Miami were in the front row, and I made only nine yards before they had me down."
In a concert hall filled with proud family members, Ouimet encouraged parents of the graduates to embrace the accomplishment they were witnessing. He directed most of his praise, however, at the graduates.
"We know that our pride in you is a burden, but you have to understand that while your parents set the bar before you were 10 years old, it was you, driven by an irrepressible sense of decency, who raised it even higher," Ouimet said. "You have dedicated yourselves to alleviating human suffering, to preserving life, to easing death. You have given up who you were for who you might become.
"So we are proud of you not because you are smart, a likely accident of nature over which we and you had little substantive control, but because you have chosen to embrace the deepest of human values. In confronting the problem of "what to do with your lives," you chose an elegant solution; one based on a keenly developed moral code and a finely honed sense of humanism."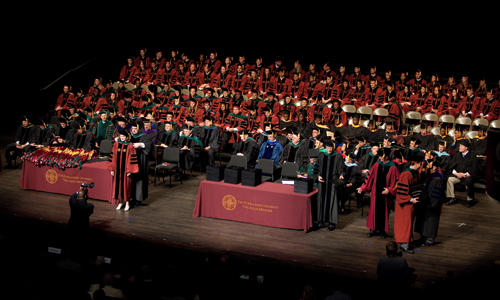 Class president Brandon Mauldin opened the ceremony by noting the shared experiences that will forever link the graduating class, despite the fact that most came from other undergraduate programs around the state.
"Our time here serves as the foundation of our careers and has had a profound influence on who we are as individuals. Let us not forget the path that brought us to medical school and the passion we have for our patients," Mauldin said.
"Let us not forget our mentors and our treasured professors who up until this point have literally taught us everything we know about medicine. Let's take the knowledge we have gained from FSU and boldly apply it to our future patients. No matter where we go or what specialty we are doing we will be asked: 'What medical school did you attend?'
"And without a doubt we will proudly reply, 'Florida State University College of Medicine.'"