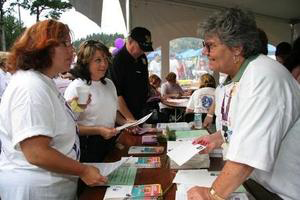 Members of the Florida State University, Tallahassee and surrounding communities have an unprecedented opportunity to participate in a historic study that could change the face of cancer for future generations.
Men and women between the ages of 30 and 65 who have never been diagnosed with cancer are needed to participate in the American Cancer Society's Cancer Prevention Study-3 (CPS-3). The study will enroll a diverse population of up to half a million people across the United States and Puerto Rico.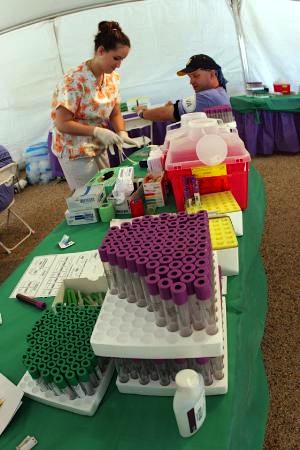 "Florida State University has been selected as one of a limited number of locations nationwide where interested and eligible participants can take part in this lifesaving study," said Kelley Kilpatrick, a Florida State student currently pursuing a bachelor's degree in nursing. Kilpatrick also services as the volunteer chair for Florida State's portion of the CPS-3 effort.
"The American Cancer Society's two previous cancer prevention studies have contributed greatly to our understanding of the relationships between cancer and lifestyle issues such as smoking and poor diet," Kilpatrick said. "This new study will advance our understanding of cancer even more — and hopefully lead us to the cure we've been working toward all these years."
The opportunity for local residents to enroll in the study will take place:
TUESDAY, APRIL 10
3 – 7 P.M.
FLORIDA STATE UNIVERSITY ALUMNI CENTER
1030 W. TENNESSEE ST.
TALLAHASSEE, FLA.
To enroll in the study, individuals will complete two steps, one in person and one at home. As part of the in-person enrollment at the FSU Alumni Center, participants will be asked to complete a brief written survey, provide some physical measurements and give a small blood sample. The enrollment process is complete when individuals complete the more comprehensive baseline survey. Over the course of the study — which is anticipated to last 20 to 30 years — participants will be asked to fill out follow-up surveys every few years that will be sent to their home.
CPS-3 will help researchers better understand the lifestyle, environmental and genetic factors that cause or prevent cancer.
For Kilpatrick, the fight against cancer has motivated her choice in careers.
"I've known I wanted to be a nurse since the second grade, but now I've realized I want to specialize in pediatric oncology, which is the treatment of cancer in children," she said. "So raising money for the American Cancer Society is incredibly important to me because it will have a direct effect on the children I will be caring for."
The fight is also personal, Kilpatrick added: Her maternal grandparents and an aunt all succumbed to different forms of the disease.
"I and many of my friends have lost a lot people in our lives because of cancer," she said, "and it is time to find a cure."
Leaders of the nationwide study hope it will eventually provide answers to many of the questions that researchers still have about factors that increase the likelihood of cancer.
"Many people diagnosed with cancer struggle to answer the question, 'What caused my cancer?'" said Alpa V. Patel, the principal investigator for the national study. However, "in many cases, we don't know the answer. CPS-3 will help us better understand what factors cause cancer, and once we know that, we can be better equipped to prevent cancer.
"Our previous cancer prevention studies have been instrumental in helping us identify some of the major factors that can affect cancer risk," Patel said. "CPS-3 holds the best hope of identifying new and emerging cancer risks, and we can only do this if members of the community are willing to become involved."
Researchers will use the data from CPS-3 to build on evidence from a series of American Cancer Society studies that began in the 1950s and have involved millions of volunteer participants. The Hammond-Horn Study and previous Cancer Prevention Studies (CPS-I and CPS-II) have played a major role in understanding cancer prevention and risk, and have contributed significantly to the scientific basis and development of public health guidelines and recommendations. Those studies confirmed the link between cigarette smoking and lung cancer, demonstrated the link between larger waist size and increased death rates from cancer and other causes, and showed the considerable impact of air pollution on heart and lung conditions. The current study, CPS-II, began in 1982 and is still ongoing. But changes in lifestyle and in the understanding of cancer in the more than two decades since its launch make it important to begin a new study.
Participants in the portion of the study taking place at Florida State needn't worry about long and involved medical tests. The initial enrollment process will take about 30 minutes, and an additional 45 to 60 minutes will be required at home to fill out the more comprehensive baseline survey. Periodic follow-up surveys of various lengths are expected to be sent every few years to individuals. The voluntary, long-term commitment by participants is what will produce benefits for decades to come.
"Taking an hour or so every few years to fill out a survey — and potentially save someone from being diagnosed with cancer in the future — is a commitment that thousands of volunteer participants have already made," Patel said. "We're looking for more like-minded individuals in the Tallahassee area to join this effort that we know will save lives and improve the outlook for future generations."
For more information or to learn how to become involved with CPS-3, visit www.cancer.org/cps3, send an email to Kilpatrick at fsurelayforlife.cps3@gmail.com, or call, toll-free, (888) 604-5888.
About the American Cancer Society
The nation's largest non-governmental investor in cancer research, the American Cancer Society combines an unyielding passion with nearly a century of experience to save lives and end suffering from cancer. As a global, grassroots force of more than 3 million volunteers, the organization helps people stay well by preventing cancer or detecting it early; by helping them get well during and after a cancer diagnosis; by finding cures through investments in groundbreaking research; by rallying lawmakers to pass laws to defeat cancer; and by rallying communities worldwide to join the fight. As a result of the American Cancer Society's efforts, more than 11 million people in United States who have had cancer, and countless more who have avoided it, will be celebrating birthdays this year. To learn more, call (800) 227-2345 or visit www.cancer.org.