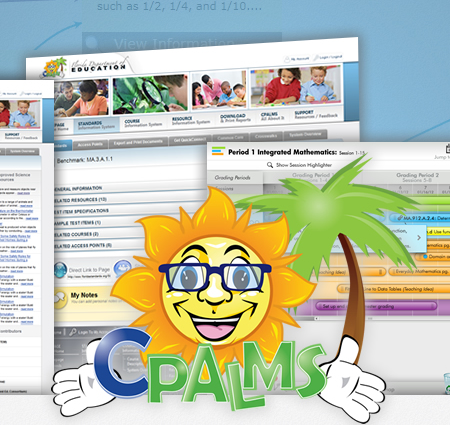 Between teaching, paperwork, assessments, discipline and grading, schoolteachers have a demanding job, and lately it's becoming even tougher.
To help meet some of these challenges, thousands of Florida educators rely on a free, online system built at Florida State University that guides them to teaching tools and resources, just when they need them. Soon –– thanks to a $10.5 million grant from the Florida Department of Education using federal Race to the Top funds –– that system will become much more powerful and relevant to teachers across the country.
Called CPALMS (pronounced "see palms"), the system is the official source for state K-12 education standards and course information. It provides tools for educators to build and share resources to support standards-driven instruction in mathematics, science and reading/language arts. Conceived, designed and built for educators by the Learning Systems Institute (LSI) at Florida State, CPALMS also connects educators with professional development and peer support.
With the new, two-and-a-half-year grant, Florida State researchers at LSI's Florida Center for Research in Science, Technology, Engineering and Mathematics (FCR-STEM) will enlarge and enhance CPALMS to create a single, open platform housing a vast network of tools, products and resources for educators. The improvements will build on an already successful system that gets an average of 10,000 visitors a day from across Florida and the globe.
"We're thrilled that teachers love CPALMS but not surprised," said Rabieh Razzouk, associate director of LSI and principal investigator on the grant. "From the start, Florida educators have been deeply involved in creating this system and reviewing the resources that go into it."
CPALMS currently features some 3,600 resources, with new ones added daily. When teachers share a resource, peer teachers and subject-matter experts carefully review it. This review process not only ensures that CPALMS materials are high-quality, it also gives feedback to teachers in a way that provides unique, relevant professional development.
Florida teachers follow state standards specifying what concepts should be taught at each grade. However, Florida is shifting to the Common Core State Standards, which have been adopted by most states and outline a consistent framework to prepare students for college and the work force. The new grant will allow educators to align all CPALMS resources with both sets of standards, creating tools and resources valuable to teachers across the country.
The grant also will allow thousands of new contributed resources to be vetted and added to the system; make it easier for educational partners to build on the platform; and create learning progression maps, messaging tools and other cutting-edge applications to help educators plan and collaborate more effectively.
CPALMS will integrate the iCPALMS platform, developed by FCR-STEM with funding from the National Science Foundation, to host apps and tools that leverage the information and resources from CPALMS to provide users just-in-time supports and materials.
"I am proud of the fact that more than 1,000 teachers from 49 districts submitted a letter of support to our proposal within days of our request," Razzouk said. "We're leading the pack with innovative ideas and functionality –– all at no cost to teachers or districts."
Not only is the price right –– so is the product, said Steve Trotman, a math teacher and department chair from Walton County who was one of the Florida educators to voice support for the CPALMS proposal.

"CPALMS is a critical resource for teachers throughout the state of Florida," Trotman wrote. "Budget cuts, personnel cuts and material shortages have placed an even greater premium on 'teacher time.' CPALMS provides a tremendous time-saving tool so teachers do not need to reinvent the wheel."
Before CPALMS, teachers often resorted to Google to find teaching resources, searches that yielded a haystack's worth of mostly irrelevant, ad-laden, inaccurate or inappropriate material, according to former Brevard County kindergarten teacher Christine Tarver, now a researcher with LSI.
In contrast, CPALMS can hone in on and even anticipate the pedagogical needle that meets a specific teacher's need to teach to a specific benchmark or standardwith a specific group of students.
"Thanks to the new grant," Tarver said, "CPALMS will soon include 'smart' tools that learn and adapt to teachers' needs based on their past use of the system. Those tools will recommend high-qualityresources and professional development modules in a timely way, just as educators need them."
The new system comes at a critical time: While the need for workers competent in the so-called "STEM" fields of science, technology, engineering and math is increasing, student performance in these subjects lags.
According to state assessments, math performance declines significantly as students move to higher grades. And the picture is even bleaker in science: Fewer than half of students in grades 5, 8 and 11 are proficient in the subject.
Improving teaching and learning in these fields is vital not only to these students' careers, said LSI director Laura Lang, but to Florida's economy, as well.
"Increasingly, STEM is where the jobs are, where the money is and where our future lies," said Lang, a co-principal investigator on the new grant. "CPALMS is doing a lot to help educators meet that challenge and, given the funded expansion, it will be able to do a great deal more."
Also on the research team are co-principal investigator Danielle Sherdan of FCR-STEM and co-investigators Young-Suk Kim and Jeanne Wanzek, both of Florida State's College of Education and the Florida Center for Reading Research, another LSI center. Project partners include the American Association for the Advancement of Science, Purdue University, WestEd, and Sciberus, the software development company that helped create CPALMS and iCPALMS.
To learn more about CPALMS and its new, $10.5 million grant, contact Razzouk at (850) 694-1682 or rrazzouk@lsi.fsu.edu.