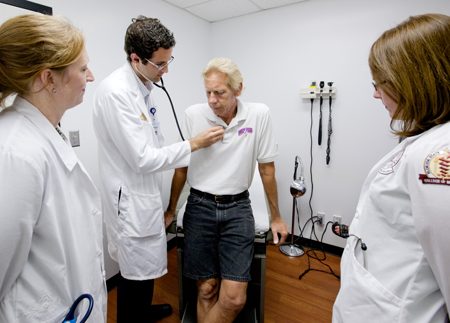 For the third year in a row, The Florida State University's College of Medicine ranks among the top five schools in the United States for percentage of graduates choosing to specialize in family medicine, according to an American Academy of Family Physicians annual report.
Over a three-year period, 16.8 percent of Florida State College of Medicine graduates entered family-medicine residencies. That gave FSU a ranking of fifth in the nation. The University of North Dakota claimed the top spot, with 20.3 percent. The next-highest Florida school was the University of South Florida, ranked 65th, with 8.0 percent.
"We remain proud of our high ranking but recognize the need to do much more in order to meet the health care needs of Floridians," said Daniel Van Durme, M.D., chair of the department of family medicine and rural health. "All of the scientific evidence shows that populations with a strong primary care base of health care have much better health outcomes, and that is certainly what we all want for ourselves and our communities."
The AAFP tracks the success of U.S. allopathic and osteopathic medical schools in producing doctors who choose family medicine residencies, and the medical journal Family Medicine publishes the numbers annually. The percentage of graduating U.S. medical students entering family medicine residencies declined again over the latest three-year period of study, continuing a slight downward trend.
Among factors the report cited in the declining number of graduates entering primary care are lower pay than other specialties, less control over work hours, the cost of malpractice insurance and student debt.
"In spite of the modest tuition and costs of a medical education here at Florida State University, we are still seeing our graduates complete their training with an average debt of $145,000," said John Fogarty, M.D., dean of the College of Medicine. "To ensure that we produce the kind of doctors Florida needs most, it is critical that we have loan repayment opportunities for students choosing to go into primary care specialties or underserved areas.
"Addressing reimbursement inequities and valuing the role of the primary care physician in providing a medical home for patients will, in the long run, reduce overall medical costs and improve quality."
The Florida State College of Medicine uses outreach programs and mission-based admissions policies in an attempt to identify and prepare more students likely to work in primary care. Through five graduating classes, roughly 60 percent of the college's graduates have entered primary care, which includes family medicine, internal medicine, pediatrics and obstetrics/gynecology. Of the first 21 College of Medicine graduates to complete residency training and enter practice, 10 are now primary care physicians in Florida, six of them in rural areas.