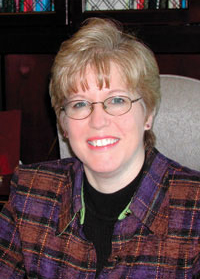 Amid the national debate on health care quality and access, $2.3 million in new grants to The Florida State University College of Nursing will support a unique Doctor of Nursing Practice (DNP) degree program that aims to increase the number of advanced practice nurses and see them lead and manage health-care delivery in poor, underserved areas.
Highly competitive, the pair of three-year grants (about $1.16 million each) will come to Florida State from the Health Resources and Services Administration (HRSA), part of the U.S. Department of Health and Human Services.
For Florida State's College of Nursing, the awards represent an unprecedented level of federal support, affirming the goals of its new DNP program, which began with the fall 2009 semester. The program's mission: Produce the most highly qualified nurse experts — with special efforts to recruit students from diverse and disadvantaged backgrounds throughout the Sunshine State — and encourage them to serve as practitioners and health care system leaders in the poor, rural communities of northern Florida and across the Southeast.
"The state of Florida must remain on the forefront of nursing education, and $2.3 million from HRSA will certainly help The Florida State University do just that," said College of Nursing Dean Lisa Plowfield. "The graduates of our new doctoral program will be exceptionally qualified to help solve many of the problems we face in today's health care system and meet the changing needs of our patients and their families, especially in traditionally underserved areas."
Plowfield said the awards couldn't have come at a better time.
"Despite significant statewide budget cuts, the HRSA funding will bolster our ability to recruit nurses into our DNP program and build a strong faculty and curriculum with a dedicated focus on diversity and cultural competence in our health care workforce," she said.
Each of the two grants will help fund and grow one of two doctoral "tracks" that students can take to the DNP degree at Florida State. Both tracks — DNP Family Nurse Practitioner and DNP Health Systems Leadership — have been designed for nurses with Bachelor of Science in Nursing or Master of Science in Nursing degrees.
The DNP degree earned at Florida State would be comparable to professional doctorates in medicine (MD), dentistry (DDS), pharmacy (PharmD), and physical therapy (DPT), according to Plowfield.
Graduates of the FSU program would be qualified to enter an advanced practice specialty area; assume leadership positions in health care; use technology and information to transform health care systems; design complex theory-guided and evidence-based models of care delivery; conduct research on the evaluation of outcomes of care through the application of state-of-the-art evidence; develop programs to promote population health; and collaborate on inter-professional teams to improve long-term patient and population health outcomes.
"The HRSA grants will enable us to expand the DNP program model that we'd originally proposed," Plowfield said. "As a result, Florida State University now can educate and graduate greater numbers of expert clinicians and researchers who are uniquely qualified for the diverse health care settings that desperately need them."