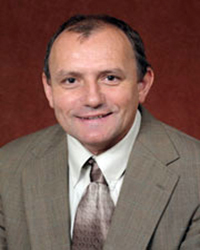 Branko Stefanovic, associate professor in the department of biomedical sciences at the College of Medicine, hopes his discovery could lead to treatment methods that may stem the process of liver fibrosis. Cirrhosis, the terminal phase of the disease, kills 26,000 Americans each year — the ninth leading cause of death in the United States.
Liver fibrosis refers to the accumulation of excess scar tissue in the liver through excess deposits of collagen, a fibrous protein found in skin, bone, and other connective tissues. The formation of scar tissue is a normal bodily response to injury, but in fibrosis the scarring begins to accumulate to unacceptable levels. The process can result from one of multiple causes, the most frequent of which are alcohol abuse and hepatitis C infection.
Fibrosis is difficult to detect until collagen deposits reach a point where the scarring has severely impaired organ function, meaning individuals suffering from the disease typically do not receive any treatment until it's too late.
"The capacity of liver cells to regenerate is great, so therefore normally the primary diseases that can lead to fibrosis do not kill the patient," Stefanovic said. "What kills the patient is secondary scarring and the replacement of normal liver tissue with scar tissue. Once this happens a liver cannot regenerate anymore."
Stefanovic and his research team made the important discovery of a protein involved in the scar formation process while working on a previous NIH grant. The RNA-binding protein, which Stefanovic has successfully cloned in his lab at the College of Medicine, is found at the place and specific time when the body is making collagen as part of the normal wound healing resulting from the body's efforts to repair injured tissue.
"We had evidence of its existence, but we didn't have the protein," Stefanovic said. "We had been looking for this particular protein for several years until we used some very sophisticated methods of cloning. When I saw the results of the binding of the protein to our target I knew immediately we had found the right one."
Stefanovic said he doesn't believe there will ever be a cure for liver fibrosis but that research and development will one day lead physicians to be able to slow down the progress of the disease.
"At least if we slow down the chronic process, instead of dying in five years the patient will live 15 years or more," he said.
"The goal is to suppress excessive collagen synthesis. In order to do that we have to know the molecular mechanisms that regulate manufacture of the protein and then see what has gone wrong when the liver is creating excess collagen.
"Then we will be able to find specific points in this process where we can intervene, by designing either a drug of some kind or a therapeutic agent that will allow us to block these key points and slow down the scarring. Cloning of this protein is a major step toward this goal."