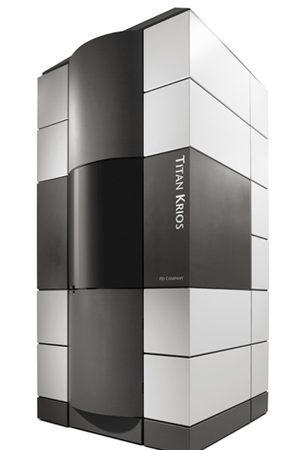 At Florida State University, the collective strength of biomedical research and the scientists who lead it has earned a $2 million High-End Instrumentation (HEI) grant from the National Institutes of Health (NIH). The one-year award will help FSU buy a state-of-the-art robotic electron microscope to advance cutting-edge studies of HIV/AIDS, heart disease, hypertension and cancer.
FSU will have $4.8 million in total funding after it matches the $2 million NIH award with $2.8 million from monies the university has set aside specifically to support research.
"Installing this ground-breaking technology will place us among the very top imaging centers in the world," said FSU College of Arts and Sciences Dean Joseph Travis. He declared the competition "unbelievably tough" for HEI grants, which come from the National Center for Research Resources (NCRR), a part of NIH that provides laboratory scientists and clinical researchers with the tools and training they need to understand, detect, treat and prevent a wide range of diseases.
For its $4.8 million investment, FSU will get a fully automated cryo-electron microscope that provides rapid, 3-D imaging of frozen specimens around-the-clock via remote operation, then transmits them over the Internet. In addition to significantly speeding the collection of crucial data, researchers in biology and chemistry at FSU and colleagues at other institutions will get unprecedented views of — and 24/7 access to — the intricate interactions of individual proteins and molecular machines within the living cells of complex biological structures.
"Currently, the world's only working installation of this microscope is in Germany," Travis said. "In the U.S., FSU will have one of only five installed or planned for near term installation. The others will be installed at NIH itself; the University of California at Los Angeles and the University of California-Berkeley; and the National Center for Microscopy and Imaging Research at the University of California-San Diego — all acknowledged as the best in the nation for structural biology and structural biological imaging. FSU soon will have capabilities unmatched by all but a few institutions in the nation."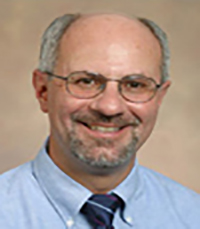 Travis noted that it's extremely rare to see an HEI grant, especially such a large one, awarded to a single group of investigators; typically awards of that type go to national centers or nationwide facilities serving multiple groups. "It's quite a testament to the scientific ingenuity of the group that will comprise the instrument's primary users, the importance of the work they do, and the commitment FSU has made to their research areas," he said.
"Innovative biomedical research requires frequent access to the newest and most advanced technology," said Barbara Alving, M.D., director of NCRR. "Such tools play key roles in the study of disease and the fundamental mechanisms of biological function, ultimately leading to new advances and treatments for diseases."
Expected to stand 16 feet high and weigh 1.7 tons, the new microscope will serve as a crucial tool to the cadre of FSU scientists who will share it once required renovations to the building in which it will be housed are completed in 2009.
"This instrument will be cutting-edge in several ways," said biological science Professor Kenneth Taylor, the principal investigator on FSU's award-winning grant application.
"Not only is it robotic, collecting data continually without operation attention, in fact it can only be operated remotely," Taylor said. "There's no conventional 'binocular' for the user to view the image. What's more, the microscope can be operated and the images viewed by anyone in the U.S. with high-speed Internet capability and the required, specially designed workstation."
Five major FSU research projects helped secure the NIH-NCRR grant for 2008.
Among them is a cell adhesion study led by Taylor, a member of the unique interdisciplinary FSU Institute of Molecular Biophysics (www.sb.fsu.edu), where the current research focus is structural biology. Taylor's work is focused on integrin, a key adhesion/signaling protein, and is critical to a better understanding of why cancer cells don't respond to the positional signals that encourage good behavior, and instead, wander away to colonize other tissues (metastasis).
The other four collaborating scientists and their winning research include:
Professor Kenneth Roux (Department of Biological Science), who uses electron microscopy to analyze AIDS virus envelope (Env) proteins, several of which are being considered as vaccine candidates. The work supports the design of neutralizing antibodies and other disease treatments.
Professor Thomas Roberts (Department of Biological Science), who studies the biophysics and cell biology of crawling motion by amoeboid cells and the structure of certain proteins crucial to that process.
Assistant Professor Scott Stagg (Department of Chemistry and Biochemistry; member, FSU Institute of Molecular Biophysics) who studies the three-dimensional structures of large biological molecules that play a key role in transporting proteins and fats from the inside of the cell to the outside. Disrupting these functions can cause cell death or one of several diseases.
Former FSU Professor Dr. Michael Chapman (Department of Chemistry and Biochemistry). Now at Oregon Health Sciences University, he'll use the new microscope remotely for research begun at FSU on the structure of the Adeno Associated Virus — which has potential for use in gene therapy.
In addition, the grant application highlighted relevant research by FSU Francis Eppes Professor of Chemistry and Biochemistry Sir Harold W. Kroto, winner of the 1996 Nobel Prize in Chemistry; and Professor Geoffrey F. Strouse, a member of the Department of Chemistry and the Institute of Molecular Biophysics.
In the emerging fields of Nanoscience and Nanotechnology, Kroto and colleagues in Germany and Mexico have shown that nanotubes can grow by carbon migration through a metal catalyst and segregate in much the same way that a skin forms on a surface. They will use FSU's new microscope to help develop novel ways to control the morphology of nanoscale structures.
Strouse designs biomedical drug therapies combining nanoscience technology and biology's natural machinery to personalize drug therapies to the individual patient. Using nanomaterial produced at FSU and 1,000 times smaller than a human hair, the technology may one day be used to treat genetic disorders such as heart disease, sickle cell anemia and cystic fibrosis.
"When it is installed next year, our new-generation cryo-electron microscope will complement the sophisticated imaging components FSU already has in place at the National High Magnetic Field Laboratory and in labs on its main campus, and should attract an enormous amount of attention from the rest of the country," said FSU Vice President for Research Kirby Kemper. "As a result, we expect to draw even more of the nation's best students to Florida State for some of the world's best science research opportunities."
For 2008, FSU (www.fsu.edu) was one of 100 institutions that submitted applications to NCRR (www.ncrr.nih.gov) for an HEI grant and among the 20 that garnered one of the coveted awards, which ranged from nearly $851,000 to $2 million. For additional details on this year's HEI awardees, visit www.ncrr.nih.gov/hei_2008. For more information about NIH, part of the U.S. Department of Health and Human Services, go to www.nih.gov.