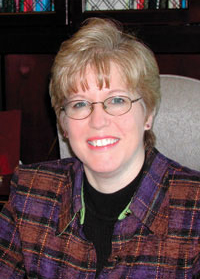 The Florida State University College of Nursing soon will have a new leader. FSU Provost and Executive Vice President Lawrence G. Abele has announced the appointment of Lisa A. Plowfield of the University of Delaware as the college's dean.
A professor and former director of the UD School of Nursing, Plowfield will take the helm at the FSU College of Nursing on August 9. She succeeds Katherine P. Mason, who steps down August 8 after six years and a host of achievements that have propelled the 57-year-old college into the 21st century. Mason will stay on as a professor to focus on her own research, teaching and public health interests.
"Lisa Plowfield brings to our College of Nursing not only a proven track record of leadership and innovation but also enormous energy and enthusiasm," Abele said. "We welcome that skill and dynamic style, because Katherine Mason's strong, successful stewardship has set the bar high. The college is notably better today for her tenure as dean, and now, with Dr. Plowfield's guidance, it will continue to thrive and grow to meet the challenges of an increasingly severe shortage of nurses and nurse-educators in Florida and nationwide."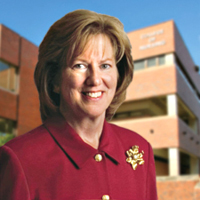 While the director of Delaware's School of Nursing from 2002 to 2006, Plowfield oversaw a dramatic increase in research by its faculty; led two national accreditations; developed and implemented a new undergraduate residency curriculum; established a state-of-the-art simulation center; and successfully spearheaded the drive for increased state funding. In addition, she was the most highly funded professor of nursing at UD for many years.
Plowfield's career achievements also include helping to establish health services for the elderly and expanded outreach to vulnerable populations, and the development of externally funded research and service programs. She has authored, co-authored or contributed to numerous publications, and taken an active role in several professional organizations and community service activities.
Initially armed with a Diploma in Nursing from Geisinger Medical Center in Danville, Penn., Plowfield went on to earn a Bachelor of Science in Nursing degree from Thomas Jefferson University in Philadelphia, a master's degree in trauma and critical care nursing from the University of Maryland, and a doctorate in nursing from the University of Virginia. She also holds a Certificate in Case Management from Johns Hopkins University.
"In my view, access to healthcare and patient safety are the most essential issues in guiding nursing education and practice," Plowfield said.
"I am very pleased to have been appointed as the next dean of Florida State's College of Nursing, where the accomplishments of my predecessor Katherine Mason are so evident, and faculty and student excitement resonates throughout the program," she said.
In 2001, Mason became the sixth dean of the FSU College of Nursing. Abele pointed to some of the major milestones of her tenure:
The college soon will add a pediatric nurse practitioner specialty to the Master of Nursing degree program;
MSN graduate program enrollment has increased significantly in both the nurse educator and nurse practitioner specialty tracks;
A new undergraduate curriculum was implemented, resulting in a pass rate of 96.2 percent on the National Council Licensure Examination in 2006.
Mason led the way on technological upgrades at the college — including the addition of human patient simulators and a Faculty Media Lab for the development of electronic teaching materials. Faculty publications, presentations and grants also increased measurably during her watch. She also helped develop the college's "Legacy Project," which includes a museum and archives with collections of oral histories, reminiscences online, and a "Wall of History" — all meant to preserve and showcase nearly six decades of nursing education at FSU.
"Now, we aim to expand our college's already strong educational programs, create even more scholarship opportunities for our future nurses, and continue to produce exceptionally well-prepared professionals at both the undergraduate and graduate level," Plowfield said.
To learn more about the FSU College of Nursing, visit www.fsu.edu/~nursing/.