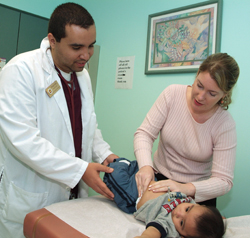 The Florida State University College of Medicine is ready to expand its rural medical education program to Immokalee, Fla., now that a transfer of property for a new training center has been completed.
NCH Healthcare System recently transferred the deed on the Isabel Collier Read Building and accompanying 9.4 acres of land to FSU. Isabel Collier Read originally donated the building and land to NCH Healthcare to provide medical care in Immokalee, home to many poor farm and migrant workers.
"We want to thank Mrs. Read, and we are so appreciative of NCH Healthcare and everyone who worked to make her vision a reality," said FSU President T.K. Wetherell. "This will give FSU the opportunity to provide some needed services to an underserved area and, at the same time, give our medical students tremendous experience."
The transfer of the 29,000-square-foot building and land to the FSU Board of Trustees enables the College of Medicine to move forward with plans to offer primary health care services to the community. Students from the medical school's six regional campuses throughout the state will have the opportunity to fulfill several third-year required and fourth-year elective rotations in Immokalee. The first group of students is expected to begin training at the site this fall.
"We are excited about this project because it is consistent with our mission, which focuses on the needs of rural, elderly and other underserved populations, and it enables us to provide innovative educational experiences," said College of Medicine Dean J. Ocie
Harris.
Already, College of Medicine students spend time in Immokalee as part of a three-week summer clinical practicum and the FSUCares spring break medical outreach program.
Collier Health Services will handle clinic management, including patient enrollment. The College of Medicine currently is searching for a pediatrician and nurse practitioner to supervise the educational program on site and work with local physicians who will
serve as clinical faculty.