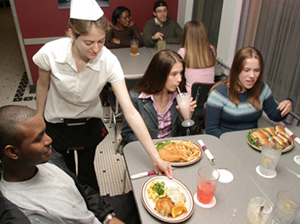 Campus dining options at Florida State University are even healthier now—and still delicious—following the recent conversion to trans fat-free fryer oil at FSU eateries.
The heart-savvy switch to non-hydrogenated corn and sunflower fryer oil by Aramark, FSU's dining services provider, has come in response to a growing concern among consumers nationally over intake of potentially artery-clogging trans fats.
"Florida State strives to be on the leading edge, whether it is in our research labs or our dining facilities," said Dianna Norwood, marketing and public relations director for FSU's Finance and Administration division.
"Aramark has embraced our university's commitment to providing a creative array of nutritious food choices that help our students, faculty, staff and campus visitors manage their consumption of trans fats and saturated fats," she said. "We are pleased to be one of the first universities in the country to eliminate trans fats from fryers at all our Aramark dining locations."
Norwood praised Aramark's work with dietitians, chefs and suppliers to identify a tasty zero grams trans fat fryer oil (defined by the FDA as 0.5 grams per serving or less).
"After our in-depth product review, it's clear that this new oil offers our FSU customers the best combination of value, performance, taste and health profile," said Randy Clay, Aramark's resident district manager. He points to an increasing demand for such changes among customers: Research conducted by Aramark in 2006 found that 27 percent of American adults surveyed expressed strong feelings about limiting their trans fat intake in meals purchased away from home, up from an average of 21 percent with similar concerns in 2005.
There have been numerous enhancements and new campus dining facilities constructed in recent years as part of FSU's response to students' expressed interest in dining options and food service. The university's Seminole Dining Services offers a variety of meal membership plans and a plethora of food purveyors that includes dining halls, restaurants, coffee shops, on-campus convenience stores—even a '50s-style diner in the heart of campus open for "all-nighters" 24 hours a day. To learn more about dining at FSU, visit www.seminoledining.com.