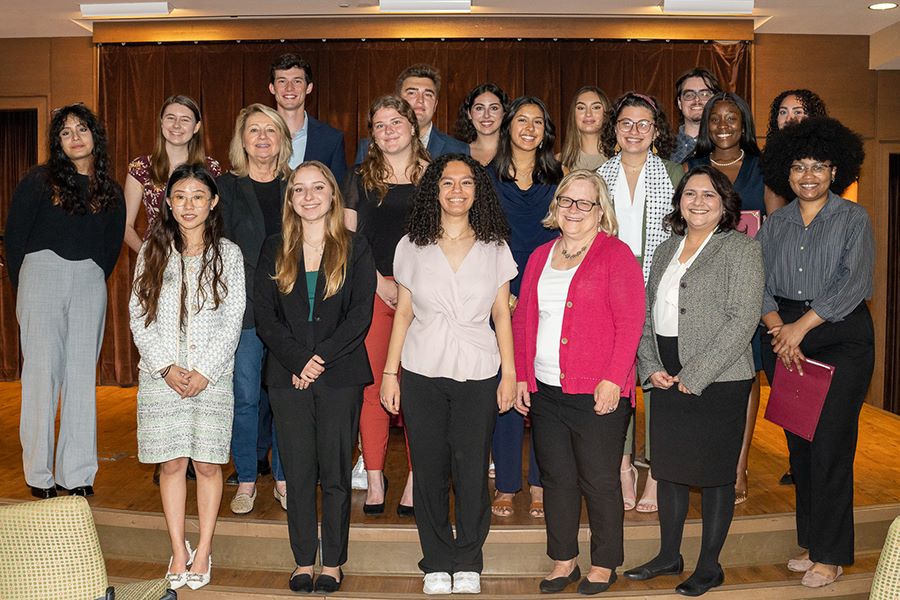 This spring, 30 Florida State University students were awarded the Global Citizenship Certificate (GCC) during a graduation ceremony Friday, April 28, marking the beginning of their journey as lifelong global citizens.  
The certificate program prepares students for the challenges they will face by helping them develop global/intercultural fluency, critical thinking, problem-solving and intercultural communication skills. First started in 2016 with less than 30 students, the program now has more than 400 individuals enrolled.  
The GCC is administered by the Center for Global Engagement and its academic home is in the College of Social Sciences and Public Policy's International Affairs Program. It includes three core components: academic courses, intercultural events and a sustained international experience. 
Sustained international experience helps students apply their intercultural competence skills. These experiences can include study abroad, internships abroad or a cultural exchange, as long as the experience is at least seven days long. Alternatively, students can partake in domestic experiences like internships, volunteer experiences or international peer mentorship, recorded for 75 hours (about 3 days) or more. 
Within the first year, every student enrolls in Global Perspectives, which introduces them to the basic concepts, theories, functions and behaviors associated with intercultural communication. It also provides an informed starting point for students to build intercultural competencies throughout the certificate program.  
Students can then choose three electives from more than 500 pre-approved courses with a global/cross-cultural focus. In total, students take four, three-credit academic courses.  
Students must also attend eight pre-approved intercultural events by choosing two from each of the following categories: social, cultural, experiential and educational. Within 10 days of attending the event, students must submit a reflection paper about their experience.  
Maya Topiwala, a junior majoring in international affairs at FSU, shared some of her GCC experiences with the audience during the ceremony. She recalled connecting with her South Asian heritage when she danced with the South Asian Student Union's dance group, DesiNoles, and reflected on her formative experience as a member of the 2022 cohort of Social Science Scholars.  
"What I've learned about being a global citizen is that it's all about going for it," Topiwala said. "As I stand here today, I know I am going to be faced with more events, opportunities, people, foods and festivals in the future. But will I go? The global citizen in me says 'yes.'" 
Sophie Vega is a sophomore studying public relations and psychology with a cross-cultural focus. For her sustained experience, Vega studied abroad with International Programs in Valencia, Spain, where she made lifelong friends and significantly improved her Spanish language skills. She credits the GCC with transforming her undergraduate experience and broadening her horizons.  
"Participating in the GCC gave me the chance to not only learn about other cultures, but also how to explore my own cultural identity and how I fit into the world around me," Vega said. "Ultimately, I learned how to be an agent for change in my own community and beyond.  
The certificate meets several of FSU's liberal studies requirements, and students can receive a transcript notation demonstrating to future employers and graduate schools that they are prepared for today's global society. 
Graduates are listed by name, major(s) and graduation term and year: 
Rawan Abhari, Economics and Middle Eastern Studies, Spring 2023
Elena Abramson, Editing, Writing and Media, Spring 2023
Summer Abu-Hamdan, Biological Science, Spring 2023
Catherine Allen, Political Science and Psychology, Spring 2023
Amelia Bonjour, International Affairs, Spring 2023
Sara Yasmeen Bouhamid, Psychology, Summer 2023
Gabriela Collana, Economics and International Affairs, Spring 2023
Alessandra Dippolito, Special Education, Spring 2023
Michelle Evangelista, International Affairs and Information Technology, Summer 2023
Priscila Nicole Fernandez, Communications and Media Studies, Spring 2023
Mark Natale Fromang, History, Spring 2023
Cara Gillespie, Clinical Professions, Spring 2023
Maria Guidubaldi, Behavioral Neuroscience, Spring 2023
Sean Stephen Hickey, Biological Science, Spring 2023
Zachary Kean, Political Science and Business Management, Spring 2023
Rachel Lechwar, Creative Writing, Spring 2023
Hannah Linenkugel, Communication Science and Disorders, Spring 2023
Nancy Loka, Behavioral Neuroscience, Spring 2023
Lauren Maheu, International Affairs and Media and Communications Studies, Spring 2023
Morgan Ann Marisa, Management Information Systems and Digital Media Production, Spring 2023
Eliahna McFarlane, International Affairs, Spring 2023
Michaela Meyer, Studio Art, Spring 2023
Nicolas Pauly, Management and Marketing, Spring 2023
Jenna Prunty, International Affairs, Spring 2024
Rachel Silverboard, International Affairs, Spring 2023
Roshelle Thompson, Psychology, Spring 2023
Maya Topiwala, International Affairs, Spring 2023
Sophie Vega, Psychology, Spring 2025 (projected)
For more information, visit cge.fsu.edu/global-citizenship-certificate.