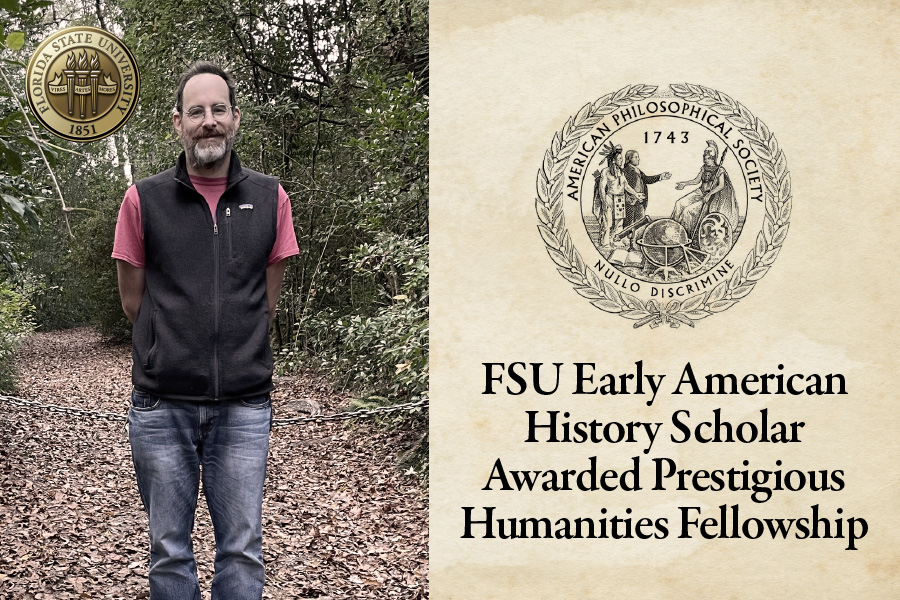 When Florida State University Professor Edward Gray begins his research into the economic influence of one of America's most famous founding fathers later this year, he'll be commencing work thanks to Benjamin Franklin himself. 
 Gray, a professor in the FSU Department of History, was selected as a recipient of the American Philosophical Society-National Endowment for the Humanities Sabbatical Fellowship for his project, "Benjamin Franklin's Money: A Financial Life of the First American." 
 The APS, founded by Franklin in 1743 for the purposes of "promoting useful knowledge," is the oldest learned society in the United States. The APS-NEH Sabbatical Fellowship will allow Gray to spend six months working on a new book at the APS Library, located in the heart of Philadelphia. 
 "This fellowship is a very nice endorsement of the things that are of interest to me and the work that I'm doing," said Gray, who earned his doctorate from Brown University in 1996 before joining Florida State's Department of History in 1998. "These fellowships are unbelievably competitive and don't happen every day, so I feel very positive and privileged to be able to enjoy the benefits of a fellowship like this." 
 Gray's latest work focuses on Franklin's role as an innovator in the world of currency politics and his efforts to reorganize the monetary environment of 18th-century America, which lacked a centralized, sovereign currency. Gray said Franklin was an adamant and vigorous promoter of printed paper money, an unpopular position at the time in colonies that had grown comfortable using their own coin currency. 
 "This would be like promoting cryptocurrency today — a lot of people rolled their eyes and were skeptical that this is some new-fangled nonsense, and we need to nip it in the bud because it's going to cause all kinds of problems," Gray said. "This is the part about Franklin I want my project to illuminate — the world of money he inhabited was very different than the one we inhabit, and he was deeply enmeshed in that world in ways that aren't all that familiar to people."
Gray, who has served as history chair for nearly a decade, is eager to immerse himself in history in the very city where Franklin spent many years of his life and at the library that houses dozens of Franklin's manuscript collections. 
"The FSU History faculty's expertise ranges broadly from Latin America and the United States to Europe and Asia, and our history scholars are prolific authors and award winners," said Sam Huckaba, dean of the College of Arts and Sciences. "Ed's selection for the prestigious APS-NEH Sabbatical Fellows program is a welcome addition to the string of honors our history faculty have accumulated in recent years." 
The APS Library and Museum announced its class of 2022-23 fellows last month, awarding a total of seven long-term fellowships, two digital humanities fellowships, and 40 short-term fellowships and internships for scholarly research in the history of science, Native American studies and early American history. Gray was one of only two professors selected to receive the sabbatical fellowship, which supports research in the APS collections for scholars who have already completed their formal professional training. 
"We are thrilled to welcome a new class of fellows to the library and museum," said Patrick Spero, the society's librarian. "Our fellows conduct cutting-edge research in a wide range of fields, and every year they make new discoveries in our collections that change what we know about our past." 
 Today, the APS serves to advance knowledge and promote scholarship in the humanities and social, mathematical, and life and physical sciences. APS members are elected from among the most eminent scholars and civic and cultural leaders in North America and abroad, and more than 100 living members are Nobel laureates. 
 To view the complete list of 2022-23 fellows, visit amphilsoc.org.