The Florida Institute for Child Welfare, housed in the Florida State University College of Social Work, is launching a new resource to inform and support the child welfare workers of Florida.
The podcast series, "Child Protection Caseworker Support," starts Monday, Aug. 26. The eight-episode series will feature the institute's director Jessica Pryce, who will discuss issues facing frontline child welfare professionals and offer guidance on a variety of issues pertinent to the field.
"As we continue to research the workforce and strategize around improvement, this podcast series is an accessible resource for child welfare professionals," Pryce said. "In this field, we are tasked with working with families that are dealing with very complex challenges, so we chose this method of sharing relevant research findings, as well as practice tools. It is my hope that this podcast content resonates with our workforce and that each listener feels seen, heard and more equipped."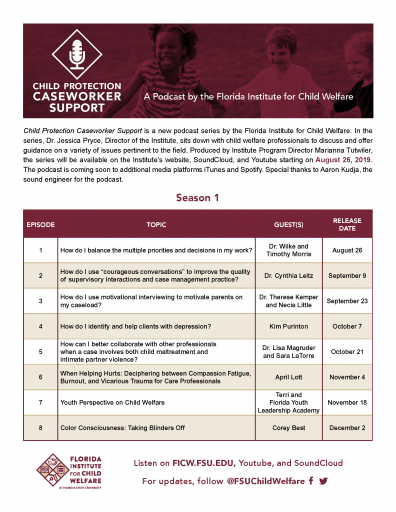 New episodes will be released every two weeks through Dec. 2. The podcast episodes will be available on the institute's website https://ficw.fsu.edu, as well SoundCloud and YouTube. The podcasts are coming soon to iTunes and Spotify.
"We appreciate the collaboration with statewide partners who served as guests on our podcast," said Marianna Tutwiler, program director at the institute. "It was the goal to inform the listener about research-related topics and couple that with practice knowledge. We aimed to combine those worlds in order to create a balanced discussion and truly research informed strategies."
For example, several episodes include doctoral level researchers talking with professionals who had a myriad of field experience to share.
Topics include burnout, compassion fatigue and vicarious trauma. These phenomena are very real for child welfare workers, and the podcast discussions differentiate between these concepts so that workers are better able to identify what they are going through and seek out the most relevant resources.
One episode tackled how to identify depressive symptoms with the families that workers serve and how to prioritize racial equity within their decisions.
Youth currently in foster care are featured in the seventh episode.
"The Children's Bureau has stated the importance of soliciting and using the voices of parents and youth who have experienced the child welfare system first-hand," Tutwiler said. "With that in mind, we are hopeful that we have elevated this unique perspective through this episode."
Contact FICW Program Director Marianna Tutwiler at (850) 566-6813 with interview requests.