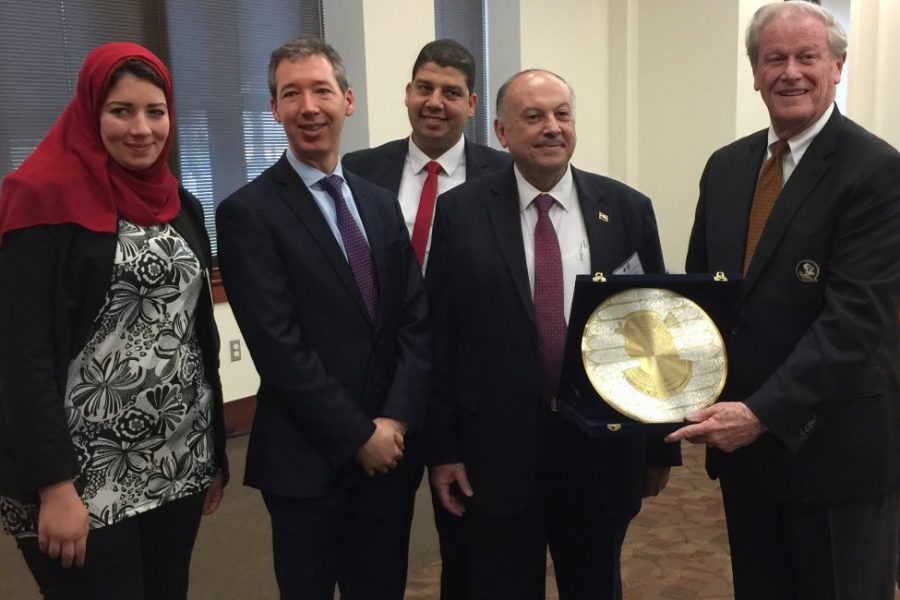 Florida State University President John Thrasher welcomed to campus a delegation of Egyptian educators who are spending six weeks in Florida to study the U.S. community colleges.
"It is an honor to host this program because we know how important community colleges can be in opening doors to new opportunities for so many people, whether in Egypt or here in the United States," Thrasher said.
The educators are at FSU as part of a U.S. Department of State exchange program, administered by FSU's Learning Systems Institute in a partnership with Santa Fe College.
"Higher education is a wonderful tool of international diplomacy," Thrasher told the 20 higher education administrators at the event April 4, "and we've been proud to be part of this State Department effort."
This is the sixth international group the Learning Systems Institute has brought to campus under the Community College Administrator Program. Educators from Indonesia, India, Ukraine, Brazil, Colombia, Ecuador and Peru have studied previously under the State Department initiative.
The program offers international educators an intensive study of U.S. community colleges, using Florida's colleges as a model. The higher education administrators started their study with an overview that included conversations with Florida Legislature leaders and senior policymakers with the Florida community college system.
"Our goals with the Community College Administrator Program include exploring aspects of the U.S. higher education system, the complexities of community college administration and the challenges of day-to-day administration," said Jeffrey Ayala Milligan, director of the Learning Systems Institute. "We will also encourage ongoing collaboration between Egypt and the United States on issues involved in access to higher education."
Egyptian educators will continue their study at Santa Fe College, with a five-week seminar on key elements of community college leadership.
Milligan noted that the Learning Systems Institute would continue the Community College Administrator Program with four additional nations. Educators from Pakistan will come to FSU through the State Department exchange program later this year, and groups from other nations will follow.
"We continue to support this model because we believe it is an effective means for us to showcase the U.S. community college system," said Anthony Koliha, director of the Office of Global Educational Programs in the State Department's Bureau of Educational and Cultural Affairs. "We believe the community college system is a robust segment of U.S. higher education, and that it provides great solutions for expanding access to higher education, for providing vocational and technical training, for providing lifelong training and retraining opportunities and for engaging in workforce development."
Koliha said the State Department does not expect Egypt or any other nation to replicate the U.S. system, but "we hope that in part this model will give you an understanding of things you might take back to Egypt."
Vilma Fuentes, assistant vice president for Academic Affairs at Santa Fe College, said the program provided opportunities for Santa Fe students and faculty to connect with others from around the world, to explore shared interests and to discover common ground in the field of education.
"The Community College Administrator Program is an educational and cultural exchange program sponsored by the U.S. Department of State that allows regular Americans to engage in citizen-to-citizen diplomacy, showcase American culture and values, and extend a hand of friendship to people from other parts of the world," Fuentes said. "It is the most personally and professionally rewarding program I have been involved in."
Learn more about the Community College Administrator Program at http://lsi.fsu.edu/ccap/.