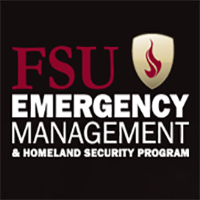 Florida State University students taking a course on designing disaster simulations are preparing for future careers through a valuable combination of the most up-to-date classroom knowledge, hands-on experience and professional connections.
The Exercise Design course is offered through the certificate program in Emergency Management and Homeland Security (EMHS). Like all the offerings in the program, the course is based on what EMHS Director Audrey Heffron-Casserleigh calls "pracademics," the intersection of practitioners and academics, where quality scholarly learning meets practical, real-world experience.
The design students took part in an exercise Dec. 3 in Wakulla County, Fla., to test the county's response and short-term recovery readiness in the event of a Category 2 hurricane. During the four-hour event, representatives of a number of local agencies, including those charged with fire rescue, law enforcement, school administration, health services and hazardous materials, experienced an interactive environment created by EMHS students and staff to assess potential problems during such an emergency.
"Rather than assessing how well a response team is doing, these exercises are designed to identify weaknesses in a system," Heffron-Casserleigh said. "We field-test performances hoping to find failures. If communities can identify things they are not ready for in an exercise, they will be better prepared for a real-world event."
Students in the course, taught by EMHS Senior Fellow Rob McDaniel, a former practitioner in the field, spend the semester learning about disaster simulations and designing an exercise for a specific client and situation using a program called TEST (Tabletop Exercise System Technology). The program was developed by the Center for Disaster Risk Policy, the institute that houses the EMHS program within the FSU College of Social Science and Public Policy's Askew School of Public Administration.
J. Chase Rushlow, a senior in international affairs working on a combined degree program leading to his master's in public administration, is one of the EMHS students who was involved in the Wakulla exercise.
"Each student contributes ideas and 'injects,' the term for situations presented to the players in an exercise that drive the exercise and drive the players to action," Rushlow said. "After the exercise is complete, we all take part in the analysis of the results. We'll be looking into the participants' responses, focusing on core capabilities and comparing them to each other on a scale of one to five.  The self-evaluations they do as part of TEST will show us how they believe their organizations and their county can handle a disaster of this type."
Working with leaders dedicated to making their community safer is what the EMHS program is all about, according to Heffron-Casserleigh.
"Not only are these exercises are of great benefit to the municipalities and agencies that are tested, but they also give a distinct advantage to students who seek to make a career in emergency management," Heffron-Casserleigh said.
Over the past two semesters, Rob McDaniel and his team have placed 26 interns in emergency management positions, nine of whom were offered jobs before their internship ended, she said.
Jamie Leigh Price is one former student whose professional life has been greatly boosted by her participation in these exercises. Price, now the mitigation planning manager for the Florida Department of Emergency Management (FDEM), earned her graduate certificate from the program along with her Master of Public Administration (MPA) degree in May 2014. She participated in the first simulation developed by the Exercise Design class in spring 2013, which involved executive officials at Florida State.
The tabletop exercise, called Seminole Storm, focused on the impact of a Category 2 hurricane in Leon County and the implications for FSU students and operations. Price was one of six students to lead the exercise. Members of that team are now working at the American Red Cross, the Federal Emergency Management Agency (FEMA) and the Hillsborough County (Fla.) Office of Emergency Management. Another recently returned to FSU to get his doctorate in the Askew School.
"You can read books on how exercises are created and how they run and how they help an organization, but until you actually do it yourself you have no clue what it is actually like," Price said. "The professors bring real-life experience into the classroom, and they let the student actually play the part. Not only does this give you hands-on understanding, it builds your resume. Without the experience I received through this program, I would not be where I am today."
Beyond the applied training, the EMHS program also provides students with contacts they can use in their job searches.
"My professors took me to a conference where I met the city of Tallahassee emergency management coordinator, and I asked him if I could work for his agency — that's how I got my first internship," Price said. "Two of my other internships were set up through the program. Through these EMHS professors, I have met an uncountable number of other people with whom I now regularly work."
In the final semester of Price's MPA program, EMHS arranged for her to intern at FDEM. She was hired two weeks into the internship, resulting in her current position. Furthermore, she knows that McDaniel and other instructors in the program will continue to assist her as a "lifetime support system" in her professional path, such as letters they recently wrote to recommend her for a state certification.
Price said looking at a list of where EMHS graduates are now proves the success of the program.
"I cannot stress enough how amazing this program is and how phenomenal the professors are," she said. "They took me under their wing, as they have with many other students, and we became a family. I know my career wouldn't have taken the path it did without their support and guidance."
Heffron-Casserleigh has high praise for the incredible opportunity the Wakulla exercise gave students to work with disaster responders and apply their classroom learning to real-world events. She also noted the EMHS program is privileged to have faculty like McDaniel, who dedicates his time to providing students with appropriate experiences and support for their future careers.
David Rasmussen, dean of the College of Social Sciences and Public Policy, agrees that programs and courses like these are an essential component of the college's mission to prepare students for meaningful careers, advanced professional training and an active role in public life.
"This is a perfect example of our focus on professionally oriented applied degrees and our Get More Than a Degree initiative to enhance education with valuable experiences beyond the classroom," Rasmussen said. "The EMHS program, and in particular this Exercise Design class, are preparing future leaders to offer innovative solutions to the pressing issues we face in today's world."