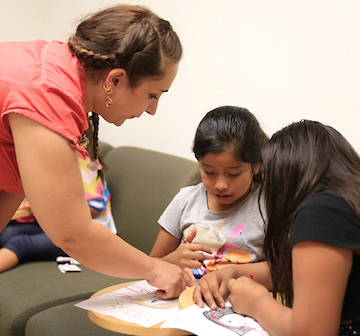 Students and faculty from Florida State University's Foreign and Second Language Education program are helping children of migrant families learn English through the Panhandle Area Educational Consortium's (PAEC) Migrant Summer School program.
PAEC, known for its advocacy efforts on behalf of the migrant communities around Florida, will conclude a five-week summer camp at the FSU College of Education's Stone Building on Thursday, July 9. Through the camp, FSU students tutor migrant children to build their English skills and confidence and make up school credits.
It's a learning experience for the FSU students as well.
"The collaboration between our program and PAEC is incredibly important," said Laura Ballard, a teaching faculty member in the Foreign and Second Language Education program. "The PAEC student participants have the opportunity to learn more about the university and get to know college students who can spark their interest in higher education. My students also learn firsthand about the migrant community in North Florida and make personal connections with members of this community, which enhances the opportunity for cultural awareness."
The PAEC Migrant Summer School program began six years ago with the support of Rebecca Galeano, assistant professor in the Foreign and Second Language Education program, and Maria Pouncey, director of PAEC. The program is a multilevel remedial school with children ranging from ages 3 to 15 whose parents have come to Tallahassee to work at tomato and strawberry farms.
"We get about 36 to 42 migrant students from theImmokalee (Fla.) area every year," said Claudia Willis, a local elementary school teacher who is this year's lead teacher for the PAEC summer camp. Willis' first experience with PAEC was as part of Galeano's course field experience requirement several years ago while earning her master's degree at FSU.
Education majors and minors enrolled in this summer's English for Speakers of Other Languages in the Content Area course spend from one to five hours each day tutoring and assisting the lead teachers of the PAEC Migrant Summer School program.
"Since many of the children attending PAEC are in various stages of English language acquisition, volunteering at the camp gives my students the opportunity to connect the material we are learning in our course to the real world," Ballard said.
This year, the PAEC Migrant Education Program is working in conjunction with FSU STARTALK — one of the first STARTALK programs in the nation to involve immigrant children. STARTALK, a project funded by a National Security Agency grant to teach languages that are seldom taught in the United States, is one of the most well-known programs specifically designed for foreign language education.
Students in the Foreign and Second Language Education program tutor PAEC migrant students not only in the English language but other languages as well. Migrant students who are fluent in Spanish might also learn to speak Chinese or Arabic from the tutors.
"The intent is for students to see the power of being multilingual," said Sherry Southerland, professor of science education and interim director of the School of Teacher Education. "There is a benefit to knowing more than one language. It is academically challenging instead of something to be pushed aside or to be frightened of."