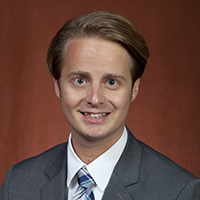 A study co-authored by a Florida State University researcher found that more than 60 percent of the racial gap in college completion rates is attributable to pre-college characteristics, such as economic status and academic preparation.
Toby Park, assistant professor of educational leadership and policy studies in the College of Education and associate director of the Center for Postsecondary Success at Florida State, collaborated on the research paper, "The Racial College Completion Gap: Evidence from Texas," with Stella Flores, professor at the Peabody College of Education and Human Development at Vanderbilt University.
The Civil Rights Project at University of California, Los Angeles (CRP) commissioned the research paper. Flores presented the findings at a higher education research and policy briefing, "Do Higher Ed Accountability Proposals Narrow Opportunity For Minority Students and Minority-Serving Institutions?" for congressional staff, policymakers, advocates, researchers and news media Tuesday, Sept. 2, at the U.S. Capitol Visitors Center in Washington, D.C.
"The main message is that college completion is not just a postsecondary story as upwards of 61 percent of the racial college completion gap can be explained by pre-college characteristics," Park said. "That's not to say that postsecondary education is off the hook when it comes to accountability, but rather to suggest that the college completion story is more complicated and nuanced than could be captured by simply comparing graduation rates amongst colleges."
CRP organized the forum in response to recent proposed reforms of accountability in postsecondary education that would compare colleges along such metrics as graduation rates and job placement success, which could "disproportionately harm low-income and minority students and the colleges that serve them."
Using a combination of state administrative data from Texas along with select national datasets, the researchers examined how racial gaps in college completion rates are associated with both the pre-college characteristics of students and the institutional characteristics of the colleges and universities they attend.
The analysis was based upon a comprehensive dataset from Texas, which indicated a substantial majority of the influence on graduation rates is accounted for by differences in things that happened before college that shape students' lives — such as family resources, academic preparation and community context —and that the key non-college factors may well differ for communities of color.
CRP's mission is to create a new generation of research in social science and law on the critical issues of civil rights and equal opportunity for racial and ethnic groups in the United States. It has commissioned more than 400 studies, published 14 books and issued numerous reports from authors at universities and research centers across the country.