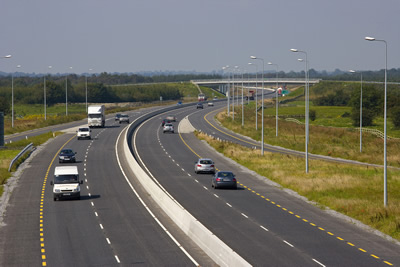 As the number of older Floridians grows, aging road users — unlike previous generations — are expected to drive more and for a longer period of time. Keeping them safe and mobile is the goal of a grant awarded by the Florida Department of Transportation (FDOT) Safety Office to the Pepper Institute on Aging and Public Policy.
With the $175,000 grant, the Pepper Institute will work with the Florida Department of Transportation and the Safe Mobility for Life Coalition to create and implement an Aging Road User Strategic Plan. The broad-based, multi-organizational project seeks to improve safety and mobility for Florida seniors in several areas: accident prevention and education, transitioning from driving, licensing enforcement, improving roadways, advocacy and policy reform and safety for non-drivers, including those who walk, bike or ride a bus.
"As part of the strategic plan, we will be conducting focus groups with aging road users around the state and distributing a survey," said Eagles Professor of Sociology John Reynolds, director of the Pepper Institute. "We want to hear their concerns and get ideas on how to improve their safety on the road and their mobility. This information will be combined with what we know about effective approaches to aging road-user safety and information we will obtain from interviews with Safe Mobility for Life Coalition members."
Florida residents age 65 and older make up almost 18 percent of the Sunshine State's population and the Census Bureau projects that number to grow to 27 percent in the next two decades, Reynolds said. In 2008, 447 older adults were killed in traffic accidents, making up about 15 percent of all crash fatalities.
Heidi Updike Butler of the Pepper Institute will coordinate the strategic plan and support the efforts of the Safe Mobility for Life Coalition. Coalition members include representatives from 20 organizations: AAA Auto Club South, AARP, Area Agency on Aging for North Florida, Area Agency on Aging of Pasco-Pinellas, Carlin Rogers Consulting, Commission for the Transportation Disadvantaged, Community Traffic Safety Teams Coalition, Department of Community Affairs, Department of Elder Affairs, Department of Health, Department of Highway Safety and Motor Vehicles, Department of Transportation, Federal Highway Administration-Florida Division, Florida Association of Area Agencies on Aging, Florida Association of Senior Centers, Florida Highway Patrol, Florida State University College of Medicine, Metropolitan Planning Organization Advisory Council, Tallahassee Senior Center and the University of Florida Institute for Mobility, Activity and Participation.
The Florida Department of Transportation Safety Office administers funding for various grant programs that address traffic safety priority areas. Grants are awarded to state and local safety-related agencies as "seed" money to assist in the development and implementation of programs. Funding for these grants is apportioned to states annually from the National Highway Traffic Safety Administration.