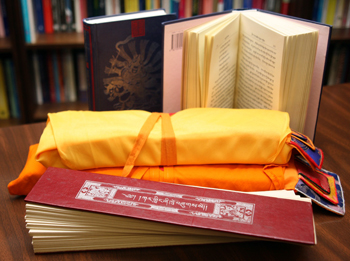 With the purchase of a massive, 25,000-volume collection of books and other materials related to religion and culture in Asia, Florida State University has vaulted into the front ranks of universities that offer Asian studies in the southeastern United States.
FSU's Department of Religion recently collaborated with University Libraries, the Department of Modern Languages and Linguistics, and the Office of the Provost to acquire the collection, which was originally part of the Institute for Advanced Studies of World Religions' library of approximately 77,000 volumes. The Asian studies collection will be housed in FSU's Strozier Library.
"The addition of this collection to Strozier's holdings marks a momentous step forward in the development of a world-class Asia library at FSU," said Bryan J. Cuevas, an associate professor of Buddhist and Tibetan studies in the Department of Religion. "With this acquisition, we easily rank in the top five among Asian-studies research institutions in the Southeast."
The volumes (and large micromaterials collection) acquired by FSU consist of items in English, Sanskrit, Tibetan, Chinese, Japanese, Korean and several other languages. The collection contains rare and essential works covering a broad range of subjects — not only religion but also history, medicine, science, political, social and legal theory, linguistics, art and aesthetics.
The new collection is expected to prove especially beneficial to the Asian-religions program in the religion department, which offers bachelor's, master's and doctoral degrees in the study of the religions of India, Tibet, China and Japan.
"The acquisition of such a splendid collection of research materials comes at just the time that the university is building momentum in its graduate and undergraduate Asian-studies curriculum," said John Corrigan, FSU's Edwin Scott Gaustad Professor of Religion and chairman of the Department of Religion. "With one of the best Asian-religions collections in the Southeast, the university, and especially the religion department, are well positioned to attract first-rank faculty and graduate students in this area. We think of these materials as the equivalent of a laboratory. And it is a very good laboratory indeed."
Julia A. Zimmerman, the director of FSU University Libraries, described the collection, currently located in one of Strozier's remote storage facilities for cataloging, as "a unique and invaluable resource."
"We were delighted to be able to purchase it," she said. "It's a very significant addition to our holdings in the humanities, where we very much want to enhance our collections, and will be of great interest to scholars at FSU and beyond."