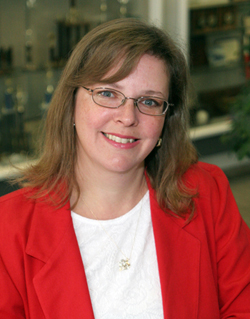 In dozens of communities throughout Florida, law enforcement officers are finding their jobs have become both safer and more efficient, thanks to a computer software system that a Florida State University researcher is working to distribute and implement statewide.
Lisa K. Spainhour, an associate professor of civil engineering in the Florida A&M University-Florida State University College of Engineering, leads a program that distributes the software, at no charge, to local law enforcement agencies throughout the state. Called TraCS Florida (TraCS being short for "Traffic and Criminal Software"), the software enables officers to prepare and transmit a variety of reports from laptop computers located in their patrol cars.
"Speed and accuracy are critical when officers are preparing documents," Spainhour said. "For example, an officer who is on the scene of a vehicular accident needs to be able to prepare a crash report quickly and get back on the road in order to reduce the risk of a secondary crash. TraCS enables the officer to do that."
Agencies using the software are seeing other benefits as well. Officers no longer have to travel back and forth to a central office to deliver paper reports or pick up books of traffic citations, enabling them to spend more time on their primary function—protecting the public. Some agencies, such as the Jacksonville Sheriff's Office, are realizing savings in the hundreds of thousands of dollars, thanks to the efficiencies that TraCS brings.
Other, commercially available software applications can perform similar functions, Spainhour said, but she sees several reasons why law enforcement agencies in Florida increasingly are turning to TraCS.
"First, larger agencies can find themselves spending tens or even hundreds of thousands of dollars in licensing fees and upgrades for commercial software systems," she said. "But TraCS is funded by the State Safety Office of the Florida Department of Transportation for the purpose of increasing traffic safety through quality data collection, so there is no cost for law enforcement agencies or other government entities that choose to implement it.
"What's more, the software is easy to learn, and it can be customized according to each agency's specific needs. Also, the TraCS Florida team helps agencies with implementation and training, and we provide ongoing phone, Web and e-mail support—all at no charge."
TraCS was first developed by the state of Iowa, in partnership with the Federal Highway Administration, beginning in 1994. In 2002, the Florida Department of Transportation began developing and deploying the software in Florida, and Spainhour received grant funding for the project. Today, she leads a team of about 10 people, including Associate Professors Ren Moses and John Sobanjo of the FAMU-FSU College of Engineering, in continuing to refine the software and provide assistance to those law enforcement agencies that currently use it.
"We moved from the piloting stage to full production in August 2006," Spainhour said. "Now we have about 75 agencies throughout the state who are using TraCS in some capacity, ranging in size from one-man departments to the Jacksonville Sheriff's Office, which is one of the largest law enforcement agencies in the state."
One of the keys to improving the safety of the driving public is accurate traffic records data, and the TraCS software plays an important role in the collection, storage and transfer of such data.
"At both the local and state levels, crash records data is used to prioritize and seek funding for safety improvements to roads and intersections," Spainhour said. "Crash and citation data also are used to manage patrol activities more efficiently. So by improving the flow of information between state and local law enforcement agencies, TraCS Florida plays an important role in keeping all of us safer on our state's roads."
For more information about TraCS Florida, visit the program's Web site at www.tracsflorida.eng.fsu.edu or call (850) 410-6237.