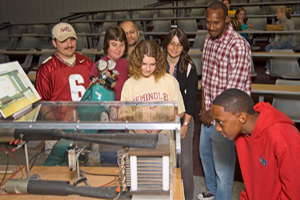 Not all young people sleep late and lie around in their pajamas watching cartoons on Saturday mornings. At Florida State University, a number of them are finding that learning about physics—yes, physics—can be an even more enjoyable activity.
This fall, several dozen local high school students are rolling out of bed on eight consecutive Saturday mornings in order to attend scientific lectures and demonstrations provided by faculty members from the university's physics department as part of its "Saturday Morning Physics" outreach program. The students are finding that science plays an important role in everyday life—and that it can be pretty entertaining as well.
"We try to show young people that the study of physics is important, it's fun, and it can be of great benefit to them in their future endeavors," said Alexander Volya, an assistant professor of physics at FSU who directs Saturday Morning Physics. "If we can make them laugh in the process, then maybe later on they will be more inclined to consider studying the sciences in college—and even pursuing a career in the field."
Since 1983, the physics department has offered the program each fall to thousands of area high school juniors and seniors, many of whom are able to receive extra credit in their science classes for attending the FSU demonstrations. However, the program isn't limited just to high school students.
"Quite often, the parents like to sit in, and they bring the younger siblings as well," Volya said. "Anyone from the community is welcome to attend, free of charge. They don't even need to register—they can just walk in at 9:30 a.m. and take a seat."
So far this fall, the topics discussed during Saturday Morning Physics lectures have included "Physics of Waves," which provided spectacular demonstrations of the properties of waves; "Physics of Sports," which took a look at the amazing forces at work in athletic events; and "From Electrons to Quarks," which showed exactly what we're all really made of.
The remaining presentations for this fall are as follows:
Oct. 21: "Physics on the Web"—The Web is a fantastic place to learn physics; find out how and why.
Oct. 28: "Exotic Materials"—A multimedia lecture exploring semiconductors and other exotic materials.
Nov. 4: "The Science and Technology of Magnets"—Visit the National High Magnetic Field Laboratory (1800 E. Paul Dirac Drive, Innovation Park) and learn about magnet research and future applications in our society. A map of Innovation Park can be viewed at www.fsu.edu/Campus/newmap/inparkz.shtml.
Nov. 11: "Nuclei, Neutron Stars and Black Holes"—Enter the extraordinary world of superdense matter.
Nov. 18: "Astronomy in the New Millennium"—Every day brings a new discovery in astronomy; sample the greatest. (A free FSU Planetarium show is included.)
Except where noted, each Saturday Morning Physics event is held in the large lecture hall (Room 101) in the Richards Undergraduate Physics Laboratory, located near the intersection of Palmetto Drive and Chieftan Way on the western end of the FSU campus. (See the map at www.fsu.edu/cgi-bin/map/zoom?MAP=21.)
All told, more than a dozen faculty members from the FSU physics department donate their time in putting on the lectures, as well as serving complimentary doughnuts and juice during intermission.
"We're all happy to take part in the program," Volya said. "This is a wonderful way of reaching out to young people and showing them that a wonderful career in the sciences may await them."