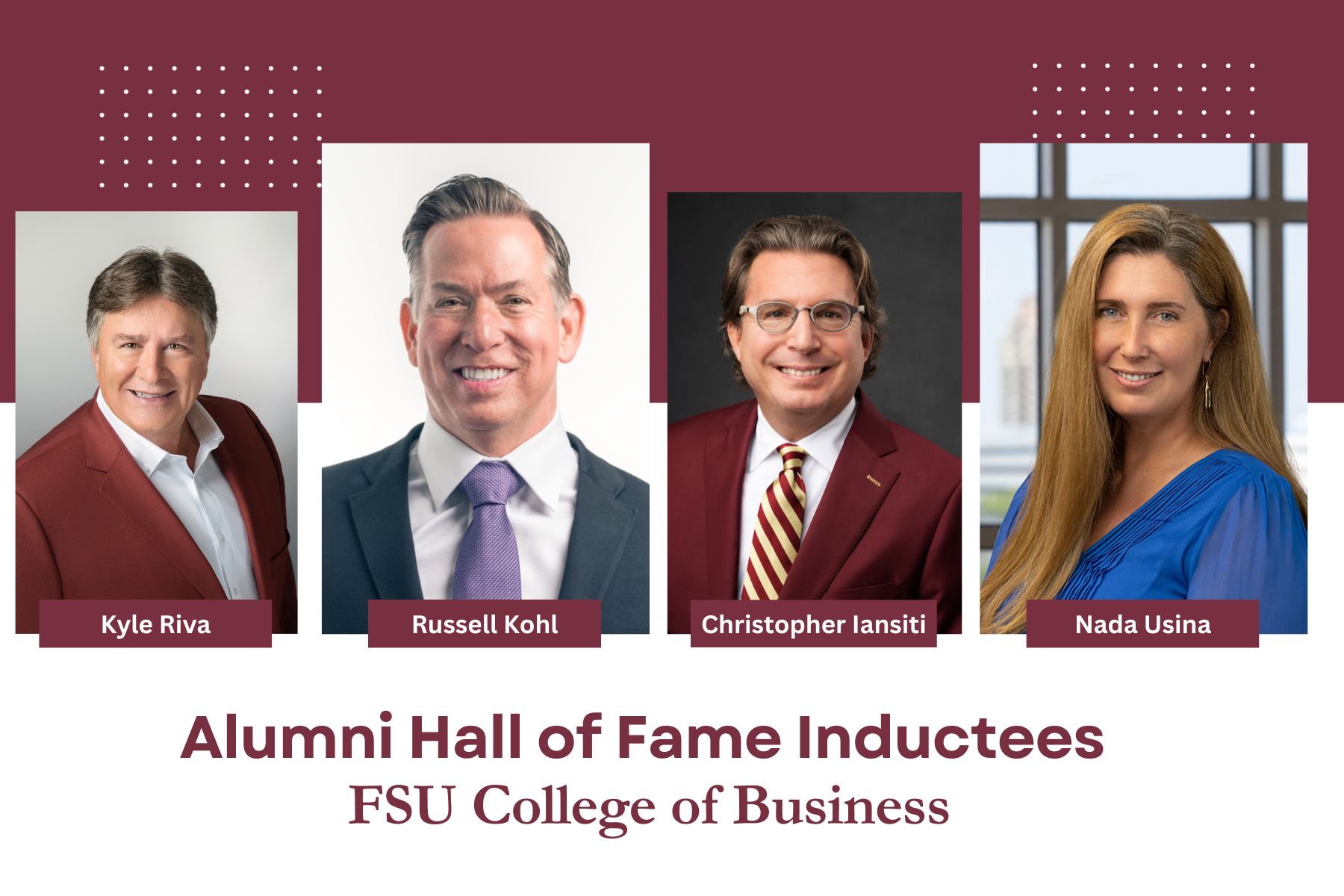 The Florida State University College of Business on Thursday inducted four new members into its Alumni Hall of Fame during a black-tie dinner at the Florida State Turnbull Conference Center.
Inducted were Christopher Iansiti, a visionary entrepreneur and organizational transformation expert; Russell Kohl, an innovative executive in the global cutting and power tools industry; Kyle Riva, a leader in development, construction and financing of high-profile commercial real estate; and Nada Usina, a global expert in executive search and advisory services.
The college bestows Alumni Hall of Fame recognition on graduates who have excelled in their careers and made a significant impact on FSU and the College of Business. The new inductees increased the Alumni Hall of Fame membership to 66 since its creation in 2003.
"Chris, Russell, Kyle and Nada, we honor, salute and congratulate you as wonderful role models and outstanding ambassadors for the university and the College of Business," Mike Hartline, dean of the college, told the new inductees during the ceremony. "Thank you for all you do for our great university."
Also, the college recognized David Orozco as the 2023 recipient of its Recent Alumni Achievement Award. Orozco is CEO of Brisas Empanadas, a Miami-based wholesale affiliate of his family's Brisas Colombianas Bakery & Restaurant. He graduated from the  college in 2013 with a degree in marketing, majoring in professional sales, plus a minor in entrepreneurship.
The Recent Alumni Achievement Award honors extraordinary alumni who graduated with an undergraduate or graduate degree in recent years.
Here is a look at the four new College of Business Alumni Hall of Fame inductees:
---
CHRISTOPHER IANSITI
(BS Finance '92; MS Instructional Systems '94) 
Iansiti is a visionary leader and expert in the areas of corporate learning, human performance and talent management.
Over a span of almost 30 years, Iansiti founded and/or co-founded three companies and consulted with global brands and Fortune 100 companies. In 2003, he founded IANSITI Performance Group, Inc., which was acquired in 2018 by Cincinnati-based TiER1 Performance. IANSITI Performance Group's impressive client list, industry recognition and client approach factored strongly in the acquisition.
Within the consulting world, IANSITI Performance was known for its client relationships, service and stewardship skills — all hallmarks for how Iansiti partnered with clients. In 2017, his firm made the Inc. 5000 list of the nation's most successful companies, and in 2018, it was honored with a place in the Seminole 100.
Iansiti has said his life mission is to help people, teams and organizations reach their highest potential. He speaks on client relationships, business development and entrepreneurship, and has been featured as a guest on CNN and cited in many articles and papers on leadership, professionalism, job search and corporate culture.
He previously worked as an officer with Delphi Performance Consulting and as a consultant with Andersen Consulting/Accenture.
A decorated FSU alumnus, the College of Education honored him in 2011 with a Distinguished Alumni Award, and the Instructional Systems and Learning Technologies Department named him the Gagne/Briggs Outstanding Alumnus in 2013. In 2020, he was inducted in the Alumni Association's Circle of Gold.
Iansiti devotes his time to FSU, chairing the FSU Foundation Board of Trustees. Previously, he served on the FSU College of Business Board of Governors, including as chair. He frequently speaks to classes and spends time with the student recipients of his three scholarships and the recipient of his directorship.
---
RUSSELL KOHL
(BS Marketing '88) 
Kohl is president and CEO of Diablo Tools and has driven unprecedented growth during more than two decades at the company.
Since joining Diablo Tools in 2000, Kohl has engineered the company's North America strategic direction, delivering outstanding operational performance, superior brand recognition and an impressive rise in stakeholder value.
This period has been marked by unprecedented growth, increasing business sixtyfold in just a little over two decades with Kohl at the helm. In addition to his North American responsibilities, Kohl provides key direction in Diablo Tools' overall global strategy and manufacturing direction.
Kohl's extensive background in sales, finance, marketing, operations and product development has resulted in the successful launch of new brands and divisions for the company.
Under his leadership, the company launched its premium line of construction cutting tools and its most successful brand, Diablo Tools.
Kohl's focus on innovation and his vision to "change the market forever" has elevated Diablo Tools to reign as producer and promoter of top brands in the construction, industrial, woodworking, MRO and MEP markets.
Kohl formerly served as vice president of new product development, marketing and sales at Peachtree Doors and Windows in Atlanta, where he oversaw a 30% growth in the company while recruiting an energetic leadership team.
At the beginning of his career, Kohl held successful positions in sales, marketing and product development with the DeWalt division of Black & Decker for 10 years. He worked on the company's launch of its "yellow tools," which grew into an industry-leading, billion-dollar product line.
Outside the office, Kohl brings his energy and work ethic to several projects, including membership in the Young Presidents' Organization, a leadership community of chief executives, and active involvement with the Atlanta-based Children Helping Children nonprofit organization. In addition, he serves on the Mount Vernon Presbyterian School Board in Atlanta, Metro Atlanta's Chamber of Commerce Board of Advisors, the executive committee of the FSU College of Business Board of Governors and the FSU Foundation Board.
---
KYLE RIVA
(BS Management '77) 
Riva continues to thrive as a commercial real estate leader and entrepreneur — now as CEO and president of Alexander Investments International, which specializes in luxury multi-family rental communities in the Sun Belt states.
Throughout his career of more than 40 years, Riva has been responsible for the development, financing and construction of high-profile commercial real estate, including apartments, office buildings, retail centers, industrial properties, hotels, resorts, single-family projects and land.
Before forming Alexander Investments International, Riva was an influential part of Epoch Properties for more than 25 years and led the company as president for more than a decade. He also served as manager of the Central Florida office of Carey, Kramer, Silvester & Associates, a commercial real estate mortgage and sales company, and his experience includes vice president/branch manager of Alliance Mortgage Company and territory manager for the Burroughs Corporation.
Representing almost 24,000 multi-family living units at a value of over $2 billion, Riva's projects have been recognized in national publications such as Housing, Professional Builder and Florida Trend.
Riva is a licensed Florida Real Estate Broker and a member of the National Multi-Housing Council. In addition, he serves in several key positions on Florida State University boards, including as chair of the FSU Real Estate Center Executive Board and a member of the FSU Foundation Board of Trustees, the FSU Real Estate Foundation board, the College of Business Student Investment Fund Board and the FSU Real Estate Investment Fund Board. Riva also is board member emeritus and past chairman of the Hamilton Holt School Board of Advisors at Rollins College in Winter Park, Fla.
---
NADA USINA
(BS Marketing & Multinational Business '93; MS Sport Management '94) 
Usina stands as a global expert and leader in executive search and advisory services, benefiting some of the world's most impactful organizations and recently becoming the CEO of a new executive search firm formed in March 2023.
Usina's previous position was senior partner at Russell Reynolds and Associates in New York City, where she led the firm's global technology sector and the firm's global media, entertainment and sports practices. She also served on the firm's executive committee. Her clients included Fortune 500 companies, leading media and entertainment brands, venture-capital startups and private, equity-backed firms.
A longtime leader in the new media and mobile industries, Usina previously managed multiple profitable business ventures in sports and entertainment, many of which leveraged the emergence of new technologies. She served as president of publicly traded JumpTV, which merged with NeuLion to become the world's leading online video and IPTV multi-platform provider. Prior to joining that, Usina was president of XOS Broadband Network, which JumpTV acquired for $60.25 million in September 2007.
Usina served as general manager and president at Nokia Canada and general manager for Nokia's entertainment and media business in North and South America. She also directed Yahoo!'s entertainment business development and sales programs, working with studios, networks, broadcasters, music labels, game publishers and advertisers. In addition, she led the sports business and marketing teams at Broadcast.com, which was acquired by Yahoo! for $5.7 billion during her tenure.
Her other positions have included leadership roles at the Atlanta Committee for the Olympic Games and the Florida Sports Foundation. She has been a member of the FSU Seminole Boosters Board, which supports the Athletics Department, and she now serves on the executive committee of the FSU College of Business Board of Governors.
A native of Toronto, Usina moved to the U.S. on an athletic scholarship, swimming for FSU and serving as captain of its women's swim team.