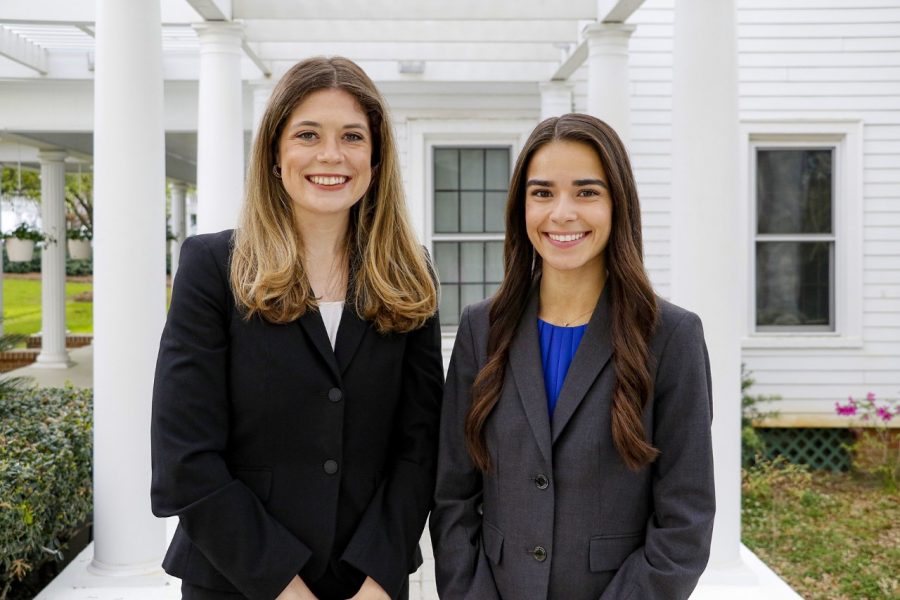 For the fourth consecutive week, the Florida State University College of Law Moot Court Team has won first place in a national competition. On March 20, the team won the 2021 Seigenthaler-Sutherland Cup National First Amendment Moot Court Competition, which took place virtually March 19-20 and was hosted by Columbus School of Law.
This was the FSU Law Moot Court Team's fifth win of the competition season.
Twenty-five law school teams from 16 states participated in the competition, including the University of Wisconsin, which Florida State beat in the final round.
Winning team members are third-year law students Gabriela De Almeida, from Jacksonville, Fla., and Hannah DuShane, from Oxford, Fla. In addition, third-year student Julia McDonald, from Piedmont, S.C., participated in the brief writing portion of the competition.
The duo also scored a pair of individual honors. De Almeida was named Second-Best Oralist for her performance in the preliminary rounds. DuShane received a perfect score in the "knowledge of law" category from all three judges in the final round. In 2020, De Almeida and DuShane also won first place as a team in the Domenick L. Gabrielli National Family Law Moot Court Competition.
FSU Law alumni Jonathan Martin ('15), who practices at Bishop & Mills in Tallahassee, and Ian Waldick ('16), who practices at Oertel, Fernandez, Bryant & Atkinson, P.A. in Tallahassee, coached the team to victory. Martin and Waldick previously coached an FSU team to a national championship in the same competition in 2018 and won a national competition together as students in 2015.
"Congratulations to our students on bringing home FSU Law's fourth national moot court championship in as many weeks," said Dean Erin O'Connor. "We are extremely proud of them and impressed by the hard work they and their coaches have committed to the team."
On March 13, FSU Law's Moot Court Team won the 2021 UCLA School of Law Cybersecurity Moot Court Competition. On March 6, the team won the 2021 Charleston School of Law National Moot Court Competition. On February 27, they won the 2021 National Moot Court Competition in Child Welfare & Adoption Law. Florida State also won first place in the 2020 Appellate Lawyers Association National Moot Court Competition in November 2020.