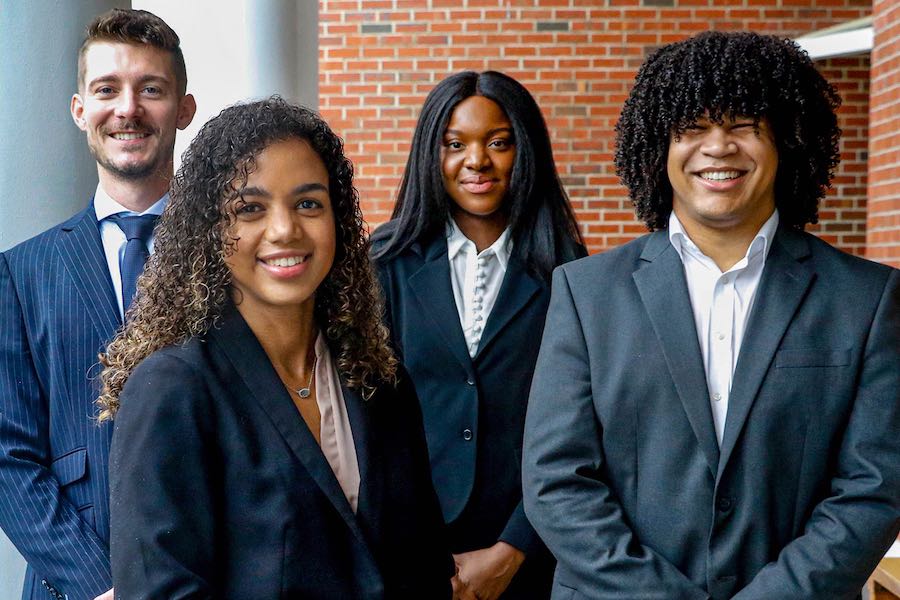 The Florida State University College of Law Trial Team won first place in the 2020 Buffalo-Niagara Mock Trial Competition on October 25. The competition was held virtually over three days and hosted by the University of Buffalo School of Law. FSU Law's Trial Team also won the Buffalo-Niagara Mock Trial Competition in 2016.
Twenty-four law school teams participated in the 2020 competition. Other competing law schools included Fordham University, University of Maryland, University of Pennsylvania, University of Wisconsin, and Washington and Lee University.
Winning team members are third-year law students Sidney Carter, from Coral Springs, and Halley Lewis, IV, from Tallahassee, and second-year law students Christopher Ramirez, from Miami Lakes, and Shaina Ruth, from Jacksonville. In addition, Ramirez earned the title of Best Advocate for the competition. FSU Law alumni Jasmine Henry ('19), who practices at Novey + Gonzalez in Tallahassee, and Rachel Lopez ('18), a deputy district attorney for the Denver District Attorney's Office, coached the team to victory. As a law student, Lopez was a member of the 2016 Buffalo-Niagara winning team.
"We are extremely proud of our talented student advocates and their dedicated coaches," said Dean Erin O'Connor. "Winning this national championship adds to the team's strong record of success. Additionally, winning a virtual competition highlights the resiliency and adaptability of our students."
In September, the FSU Law Trial Team was named 15th best in the 2020 ranking of the nation's top trial teams. The ranking was based on achievement in interscholastic law school trial competitions.