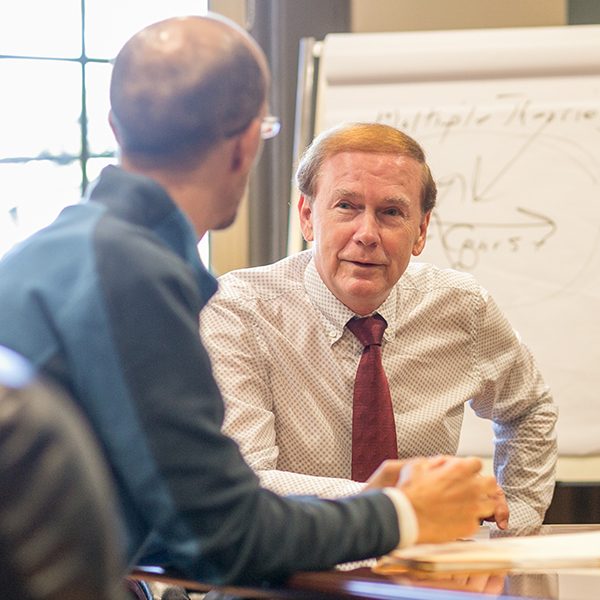 Three faculty members at Florida State University's College of Criminology and Criminal Justice have been identified as top influencers in their field by AcademicInfluence.com.  
The rankings recognize the top 15 influencers from a pool of candidates drawn from universities and colleges around the world.
Kevin Beaver, the Judith Rich Harris Professor of Criminology, was ranked No. 6, while Daniel P. Mears, the Mark C. Stafford Professor of Criminology, was ranked No. 10 and Thomas G. Blomberg, dean and Sheldon L. Messinger Professor of Criminology, was ranked No. 13. 
"I am extremely proud of Dr. Beaver and Dr. Mears," said Blomberg. "Additionally, I am honored to be included in this list among them. This distinction further illustrates our college's outstanding faculty and our ongoing mission to extend scholarship beyond the walls of the classroom with the ultimate goal of reducing the pain and suffering associated with crime."   
Beaver's work includes researching how behavioral and molecular genetics influence later criminality and delinquent behaviors. With more than 250 articles and books to his credit, he has contributed critical insights to our understanding of genetics and behavior. He is credited with the identification of a rare variation of the MAOA gene that correlates to violent behavior and weapons use among males. 
Mears' research has explored criminal justice policy involving juveniles, immigrants and supermax prisons. He has twice been awarded the Academy of Criminal Justice Science's Outstanding Book Award. His expertise has been sought by organizations and agencies, such as the National Institute of Justice, the Office of Juvenile Justice and Delinquency Prevention and the William and Flora Hewlett Foundation.
Blomberg's research includes studying ways to leverage research knowledge to inform public policy, elderly financial fraud, juvenile offenders who are incarcerated and later reintegrated, victim services and corrections reform. He is the recipient of numerous teaching awards at FSU, where he has been teaching in various capacities since 1973.
AcademicInfluence.com bills itself as an "innovative ranking system that seeks to offer objective means to capture influence" across disciplines, spheres of research and professional fields. 
According to its website, the AcademicInfluence.com team is composed of academics and data scientists working to provide objective, real-time rankings of influential people, places and institutions.