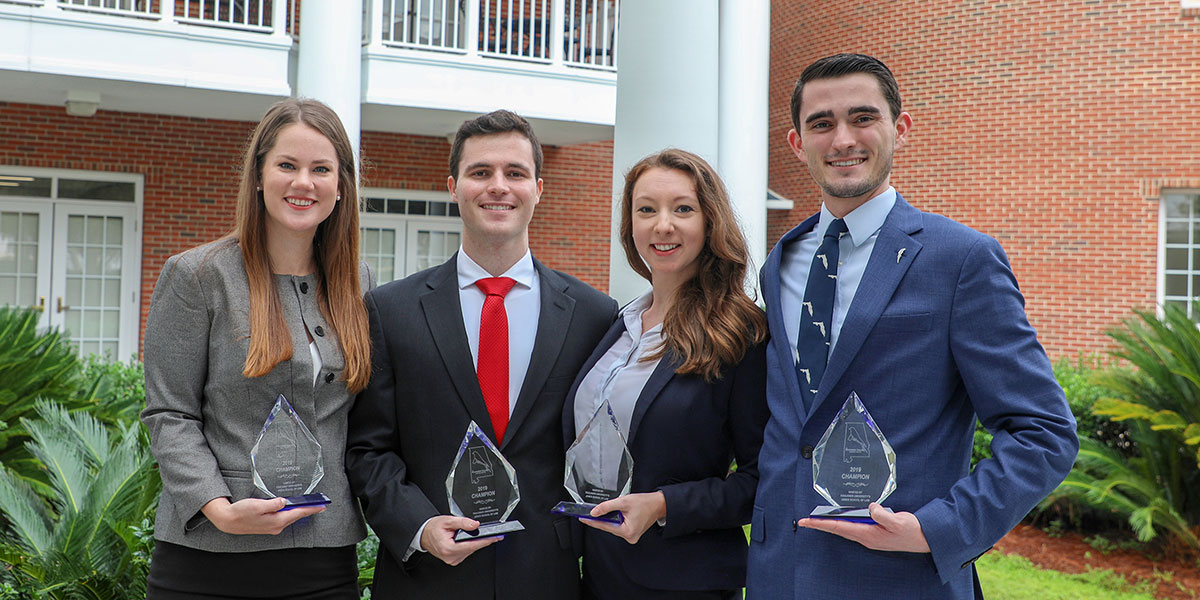 The Florida State University College of Law Trial Team won first place in the 2019 Mockingbird Challenge National Trial Competition held Oct. 9-12 in Montgomery, Alabama.
Twenty-four law school teams participated in the competition, including a team from the University of Georgia, which FSU Law defeated in the finals. Other law schools competing included defending champion University of South Carolina, which FSU Law defeated in the semifinal round, Fordham University, University of California – Davis, Washington University in St. Louis and William & Mary.
Winning team members are third-year law student R. McLane Edwards, from Quincy, Florida, second-year law student Genevieve Lemley, from Purcellville, Virginia, second-year law student Corie Posey, from Clarksburg, West Virginia, and third-year law student Luke Waldron, from West Palm Beach, Florida.
FSU College of Law alumni and former Trial Team members Samuel Gilot ('16), who practices at Kubicki Draper in Tallahassee, and Louis Jean-Baptiste ('16), who practices at the Law Office of Stephen G. Webster, LLC in Tallahassee, coached the team to victory.
"Congratulations to our talented student advocates and many thanks to their dedicated coaches," said Dean Erin O'Connor. "This trial competition victory is another example of Florida State law students excelling at the national level."