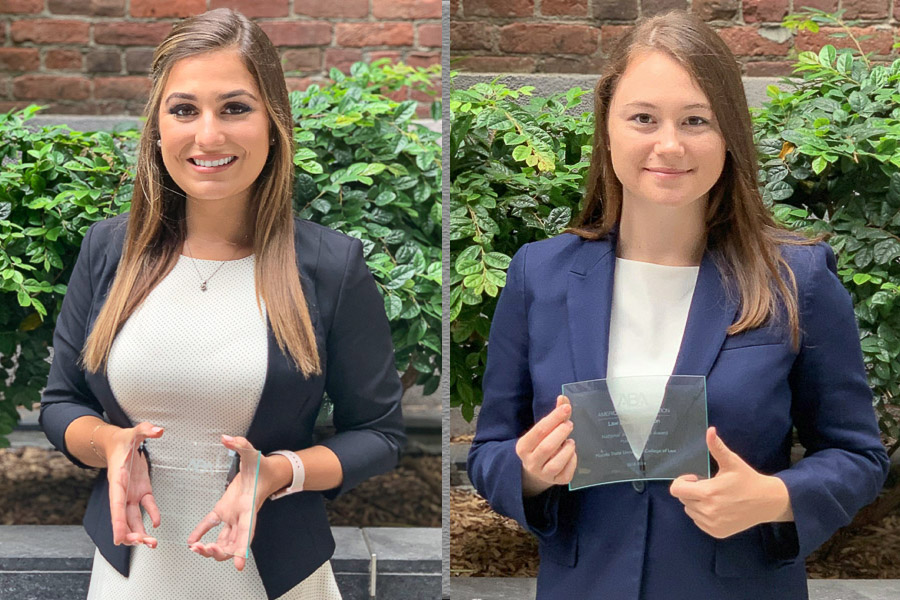 The American Bar Association (ABA) Law Student Division has presented two of its five national awards to the Florida State University College of Law.
For the eighth time since 2008 and the third consecutive year, the Florida State University College of Law Student Bar Association (SBA) received the Student Bar Association Award, which honors the best SBA in the nation. The honor is also known as the SBA of the Year Award and recognizes the efforts of an SBA to create a better environment for law students and positive image of the legal profession.
In addition, FSU Law's Public Interest Law Center won the 2019 Judy M. Weightman Memorial Public Interest Award for outstanding contributions to underrepresented groups or public interest causes. Top law schools from around the nation competed for the awards, which were presented Saturday, Aug. 10, at the ABA Annual Meeting in San Francisco.
"We are thrilled that the efforts of our Student Bar Association and Public Interest Law Center have once again been recognized at the national level," said Dean Erin O'Connor. "Congratulations and thanks go to the entire SBA board, especially immediate-past President Cecilia Orozco, and to professors and students conducting important work through our Public Interest Law Center. They are helping to make the FSU Law community more dynamic and service-oriented."
Florida State's SBA was honored following a year of many accomplishments.
During the 2018-2019 academic year, SBA's robust programming included a Mental Health Week, a Diversity Week, fundraisers and volunteer opportunities to benefit victims of Hurricane Michael, active shooter training, and a Carnival for a Cure — a new initiative that raised more than $1,600 to benefit cancer research. SBA also engaged regularly with legal professionals through numerous educational events with attorneys and judges.
The Weightman Award, presented to FSU for the first time, is the most recent of many national honors that have been bestowed upon FSU's Public Interest Law Center (PILC) for its work. Through PILC's three clinics and multiple projects, FSU law students earn academic credit while providing legal services to underrepresented individuals.
PILC was honored by the ABA Law Student Division for its work during the 2018-2019 academic year, which included a new outreach opportunity for PILC's Children in Prison Project during FSU Day at the Capitol. Students visited numerous state legislators to stress the importance of proposed legislation that would help incarcerated children and their communities.
Through this activity and many others, students raised awareness about incarcerated children who are in solitary confinement in adult prisons.