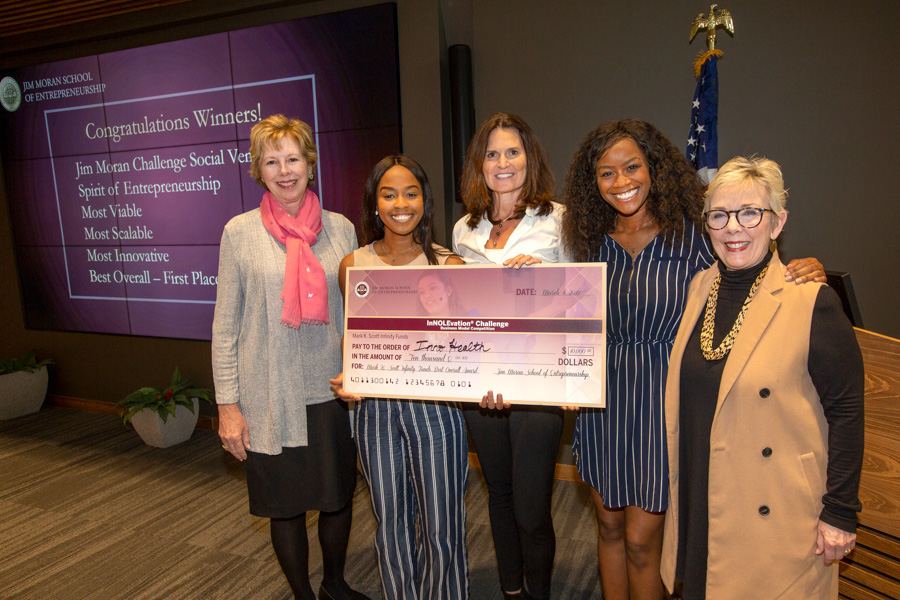 A team of Florida State University student-entrepreneurs with an ambitious goal to virtually eradicate snail fever in a region of Nigeria won the grand prize of $10,000 in the annual InNOLEvation® Challenge Business Model Competition sponsored by the Jim Moran School of Entrepreneurship.
The students' business, InnoHealth Diagnostics, uses DNA amplification and other advanced technology to improve early diagnosis of people suffering from the tropical parasitic disease schistosomiasis. The company aims to lower the rate of the disease, which is spread by freshwater snails, to less than 1 percent in Kano State, Nigeria. The entrepreneurs plan to expand services in Nigeria.
Team members FSU senior Nkechi Emetuche from Orlando and recent graduates Clarens Jarbath (Tampa), Charles "Jack" Robbins (Homestead), and Angela Udongwo (Jacksonville), won the Mark K. Scott Infinity Funds $10,000 First Place prize following six months of work leading up to the competition March 1.
"We are excited to use innovative technology to empower Nigerian communities to improve their quality of life and realize their full potential," Udongwo said.
Team members hope to eventually market their product in other countries.
"Having the opportunity to work with FSU faculty and advisers and getting support from the Jim Moran School has shown us the sky is truly the limit," Emetuche said. "We hope to inspire other students to pursue high-impact projects."
Emily Pritchard, who holds a doctorate in biomedical engineering, and Cesar Rodriguez, M.D., worked with the team over the past year through the program Biomedical Entrepreneurship Mentorship at the FSU College of Medicine. The idea developed from a class project in Biomedical Engineering at the FAMU-FSU College of Engineering.
Pritchard, who's affiliated with the Jim Moran School of Entrepreneurship, and Rodriguez, an entrepreneur-in-residence at the College of Medicine, offered valuable medical and entrepreneurial expertise to the students. Both are research faculty members at the College of Medicine.
"InnoHealth demonstrates the effectiveness of interdisciplinary teamwork to achieve broad health impacts," Pritchard said. "This technology began with human-centered design in engineering. Through mentorship at the College of Medicine and the Jim Moran School of Entrepreneurship, it has been refined and focused to reach those affected by this parasitic disease. I am proud of the team and excited to see their continued progress."
InnoHealth's win means the team will represent FSU at the 4th annual ACC InVenture Prize competition in Raleigh, North Carolina, April 16-17. The competition invites 14 of the ACC's best student-entrepreneurial teams to compete in a Shark Tank-style competition.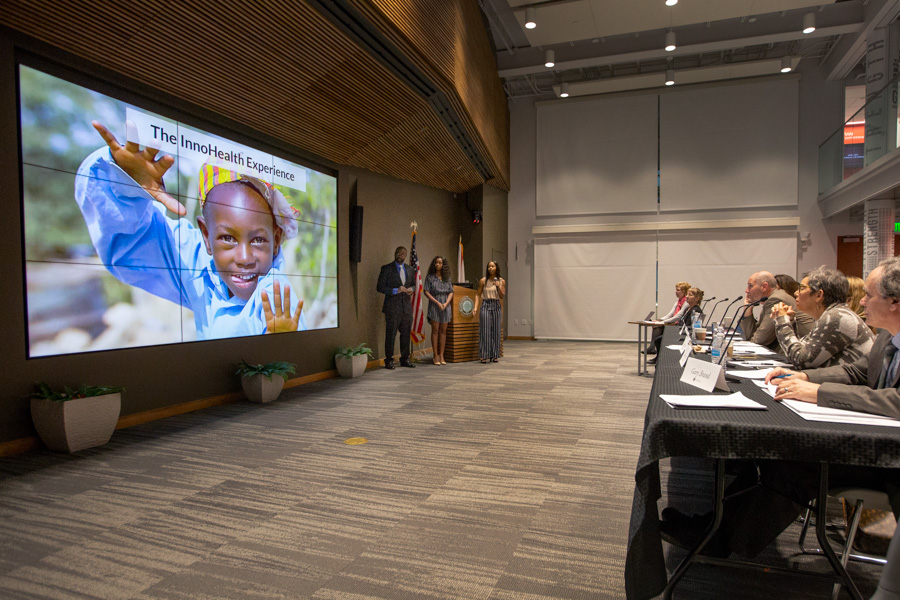 Other winners at the InNOLEvation® Challenge included Impact Frontiers LLC, a lease-to-own taxi service in Haiti that won the $4,000 Jim Moran Challenge Social Venture Award. Senior Vince Dewar founded the business last fall with the mission of providing jobs and economic empowerment to low-income Haitians.
Aquasist won the $4,000 Most Viable Award, which is presented to the company with a proven track record of achieving its mission. Aquasist aims to offer opportunities to all people, including those living with paraplegia. The business created a wetsuit and adjustable float that allows divers to adjust their body in the water.
Kylie Halbert, a mechanical-engineering student at the FAMU-FSU College of Engineering, developed the concept for the wetsuit. She teamed up with fellow mechanical-engineering students Dominic Balistreri, Kevin Nicholas and Ebony Luster to help found the company.
Hummingbiird received the $4,000 Spirit of Entrepreneurship Award, which recognizes presentation, passion, character and teamwork. Founded by Matthew Solomon and Zachary Polito, Hummingbiird is a digital platform that helps college students connect and complete jobs for one another.
Inspecchain won $4,000 as the most scalable company with an actionable plan for growth and potential for new markets. The business employs cloud computing and advanced technology to address challenges in industries such as construction and inspection. Joshua Sanchez, a senior majoring in social entrepreneurship, founded the company.
The winner of the $4,000 Most Innovative Award was FRP Recycling Solutions. The business recycles fiber reinforced plastic (FRP) and manufactures concrete mixes. The company's goal is to prevent FRPs from being dumped in landfills. Team members Sophia Hawkins, Alberto Chacin, Kyle Rhodes and Maricarmen Arjona are all students at the FAMU-FSU College of Engineering.
"The InNOLEvation® Challenge was a true learning experience for these student teams," said Wendy Plant, Jim Moran School director of the InNOLEvation® Center for Student Engagement. "They attended a series of workshops and learned from a cadre of mentors who helped them validate and improve their business models through two elimination rounds and the finals."
Two finalists each took home $500:
Emergency Text Radio — Co-founders Alexander Valdivia, Andrue Peters, John Lajoie, Sean Kelly and Henry Troutman are seniors at the FAMU-FSU College of Engineering. The Emergency Text Radio is a handheld, mobile device that uses sub-GHz radio frequencies to communicate text messages over a self-repeating network. It's designed to accelerate emergency management services in disaster areas.
Paper Fairy — Paper Fairy provides an option for students to print from any location, eliminating concerns about ink, maintenance or whether a printing shop is open. Paper Fairy is a mobile web app that enables students to upload documents and print to the nearest available printer. Jericho Martinez and Keishon Smith founded the business.
The participants of InNOLEvation® Challenge hone critical-thinking skills by developing and adapting a business model during various stages of the six-month competition. InNOLEvation® Challenge consisted of 12 educational workshops and three competitive rounds. Student-entrepreneurs made final presentations at the Jim Moran Building in downtown Tallahassee.
Eight student startups competed in the final competition after emerging from a group of more than 45 fledgling ventures. The final teams made presentations to a panel of entrepreneurs and community leaders who served as judges. The competition awarded more than $30,000 in prizes.