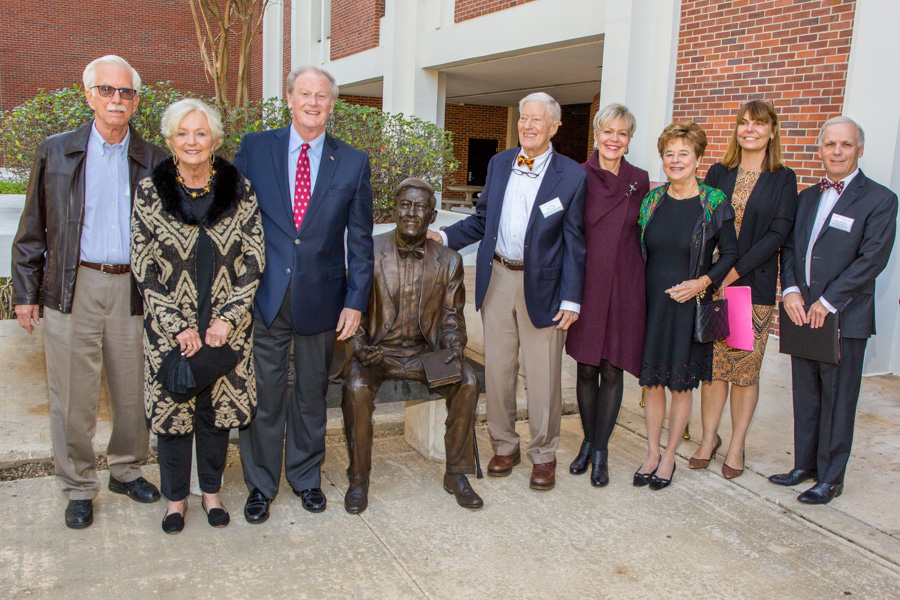 TALLAHASSEE, Fla. — Florida State University's beloved and brilliant President and Dean Emeritus Sandy D'Alemberte feels like he's back home.
D'Alemberte, now 85 years old and still teaching law courses, greeted friends and colleagues with his signature bright smile and cheerful style at a ceremony Nov. 18, commemorating the relocation of the "D'Alemberte Statue" from the College of Medicine to the College of Law.
Now, his statue sits just three blocks from his childhood home in downtown Tallahassee. Born at 502 S. Adams St. in 1933, the house came down in the 1970s when the 22-story state Capitol went up at that location, but the memories there remain vivid.
"Literally, if you walked straight out the back door of the Old Capitol and crossed the street, which was Adams Street, you would walk onto the front porch of my grandmother's house," D'Alemberte recalled. "So now, I'm returning to my old neighborhood. It's only taken me 85 years to move three blocks."
It's a good line and the crowd loved it, just as they love the man who delivered it with a joyful twinkle in his eye, fittingly, in the law school's D'Alemberte Rotunda.
FSU President John Thrasher, who's known D'Alemberte for more than 40 years, said he cherishes their friendship.
"Sandy, you have been both an inspiration and friend to me for four decades," Thrasher said. "You've been my friend, my adviser, my mentor, and all I can say is, I love you very dearly. Thank you for everything you have done for our state, our nation and certainly, Florida State University."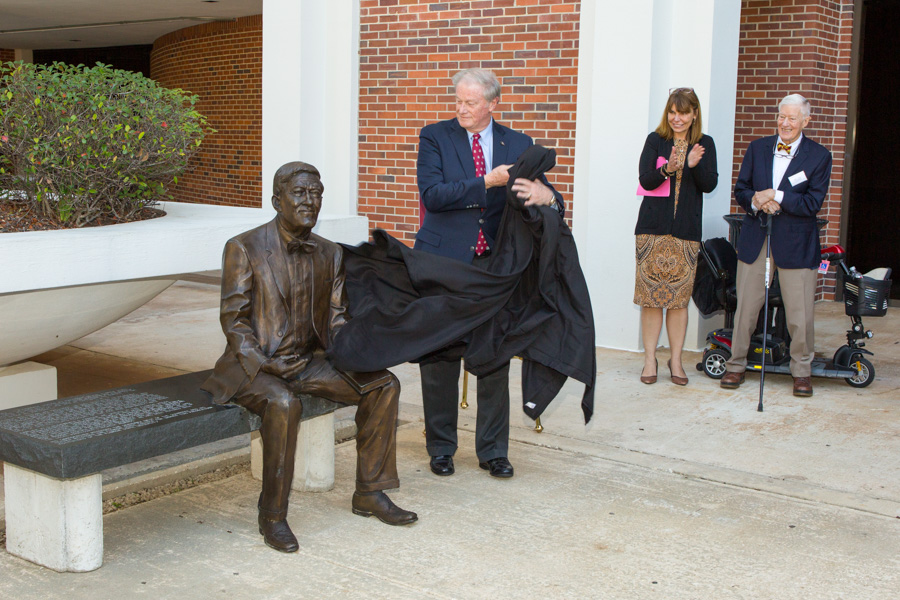 The ceremony highlighted D'Alemberte's remarkable impact in seemingly every endeavor he's tackled, whether it has been at the local, state, national or international level.
Three years out of law school, he became a partner at a Miami law firm. He went on to serve in the Florida House of Representatives for six years. He chaired the Florida Commission on Ethics and the 1978 Constitution Revision Commission. He led the American Bar Association in the early 1990s, served as dean of the FSU College of Law from 1984 to 1989 and then as president of FSU from 1994 to 2003.
D'Alemberte said two highlights of his presidency included establishing the College of Medicine in 2000 with the help of Thrasher, who was Florida House Speaker at the time, and creating FSU's Center for the Advancement of Human Rights, also in 2000.
The D'Alemberte Statue has been positioned at the entrance of the law school to face directly toward the center across Jefferson Street.
"Sandy, as a visionary leader, understood the importance and the power of law for contributing to social justice," said Erin O'Hara O'Connor, dean of the FSU College of Law. "Having a statue across the street from the Center for the Advancement of Human Rights is especially fitting because I think he would consider that his most important accomplishment as president of FSU."
Today, D'Alemberte is considered one of the leading advocates for human and civil rights around the world, as well as a constitutional expert, according to his longtime friend Martha Barnett.
"There are so many places on campus where this statue could be located, the College of Medicine, the Center for Human Rights, even the football stadium," said Barnett, a former president of the American Bar Association. "But there's only one place that it should be, and it's at home here at the College of Law."
When D'Alemberte served as president of the American Bar Association following the fall of the Berlin Wall, he conceived an audacious idea to help former communist countries set up new legal systems with independent judiciaries, constitutional reforms and guarantees of basic human rights.
D'Alemberte's vision helped launch the Central and East European Law Initiative, or CEELI, with American lawyers and judges volunteering to provide legal assistance to emerging democracies. It was a major success. Today, the program operates globally with hundreds of staffers in Europe, the former Soviet Union, Asia, the Middle East, Africa and Latin America.
His longtime friend and colleague Mark Ellis, an FSU law school alumnus who now serves as executive director of the International Bar Association, said most people would be dazzled to learn what D'Alemberte has accomplished on the world stage.
"The audacity of Sandy's vision was quite extraordinary," said Ellis, the brainchild of moving the statue to the law school. "In the 27 years of this program, it has sent over 5,000 volunteer lawyers and judges to countries throughout the world. It is now the largest pro bono legal assistance program that the United States has ever undertaken, and that was Sandy's vision.
"But that shouldn't surprise us because we all know Sandy thinks big."
D'Alemberte is a big thinker still attuned to the minutest ingredients of success, friends attested, particularly when it comes to personal relationships. That's why, as Ellis said, people have always embraced D'Alemberte and lined up to act on his ideas. They knew the mission might be daunting or difficult but the effort would be worthwhile, and it would be joyful.
"It's a little like Tom Sawyer without the ruse asking if you want to paint the fence," Ellis said. "You paint that fence, you paint it day and night, and you do so with joy because you're honored to work with Sandy D'Alemberte on another project."