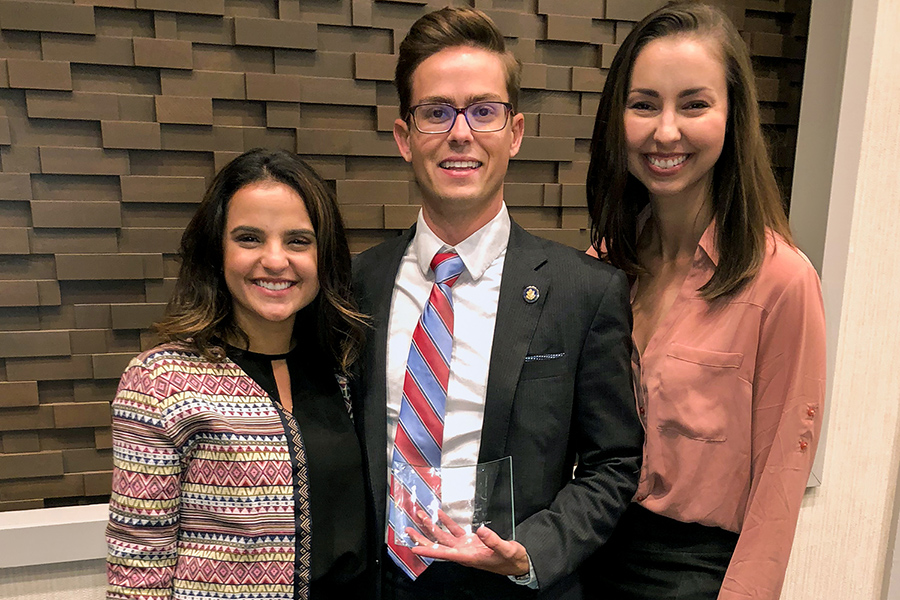 For the seventh time since 2008 and the second consecutive year, the Florida State University College of Law Student Bar Association received the National Achievement Award, which honors the best SBA in the nation, from the American Bar Association's Law Student Division. The award is also known as the SBA of the Year Award and was presented Saturday, August 4, at the ABA Annual Meeting in Chicago. It recognizes the efforts of an SBA organization to create a better environment for law students and a more positive image of the legal profession. Top law schools from around the nation competed for the award.
Florida State's SBA was honored following a year of many accomplishments. During the 2017-2018 academic year, SBA's robust programming included a Mental Health Week, a Diversity Week and a panel discussion on alcohol awareness to provide information on resources available to law students and lawyers. SBA collaborated with other organizations to feature notable speakers, including experts from the university and legal profession.
Students were also able to network with notable attorneys and judges and to give back to the community through SBA events. SBA participated in the Making Strides Against Breast Cancer Walk, raising more than $1,600 to benefit the American Cancer Society, hosted blood and food drives to benefit the victims of three hurricanes and formed a Dance Marathon team that raised almost $3,000 to benefit children in need of specialized pediatric and medical care.
"We are thrilled that the work of our Student Bar Association has again been recognized at the national level," said Dean Erin O'Connor. "Congratulations and thanks go to the entire SBA board, especially Immediate-Past President Lilly Sharpe, for continuing SBA's tradition of helping to make the FSU Law community dynamic, inclusive and collaborative."
Florida State's incoming SBA president, Cecilia Orozco, accepted the award at the ABA meeting.