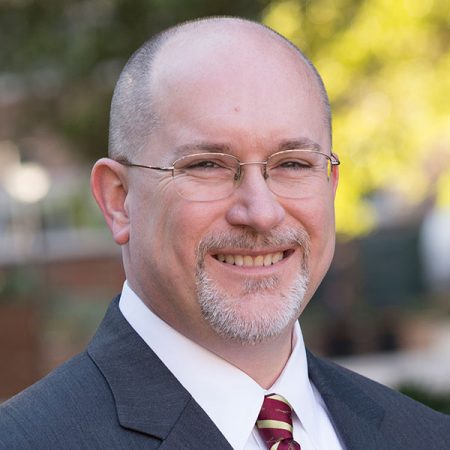 Florida State University has named Michael D. Hartline dean of the College of Business, effective April 1.
Hartline, the Charles A. Bruning Professor of Business Administration at Florida State, joined the college's faculty in 2001 and has served as interim dean since July.
"Michael is a highly collaborative, dedicated leader," said Sally McRorie, provost and executive vice president for Academic Affairs. "He has great strengths in relationship building at every level from colleagues and students to alumni and donors. Dean Hartline's enthusiastic commitment to strategic initiatives and moving the College of Business into the Top 25 is contagious!"
As interim dean, Hartline played a major part in securing a $100 million gift from Jan Moran and The Jim Moran Foundation to create the Jim Moran School of Entrepreneurship, which will be the largest interdisciplinary entrepreneurship school of its kind in the nation.
"I am incredibly honored to be named dean and eager to continue serving our great college and university," Hartline said. "We are putting the pieces in place that will keep us on the path toward preeminence. Our faculty, staff, students and alumni are outstanding, and I look forward to working with them and FSU leadership on key initiatives that will further enhance our reputation around the world."
Over his 15 years at Florida State, Hartline has served as a faculty member and administrator. He was associate dean for Strategic Initiatives from 2011 to 2015, responsible for external relations, marketing and branding, executive education and strategic programs. In addition, he worked with the dean and development staff to raise roughly $54 million for the college and led the building campaign for Legacy Hall, the college's new home to be built along West Madison Street near the Donald L. Tucker Civic Center.
As chair of the college's Department of Marketing from 2006 to 2011, he worked to enhance private funding, implemented shared governance, established formal faculty evaluation and merit guidelines, created an annual strategic planning process and launched a new major in professional sales and a new Master of Science in Marketing program.
Before coming to Florida State, Hartline was an associate professor of marketing at Samford University's Brock School of Business from 1999 to 2001, assistant professor of marketing at Louisiana State University's E.J Ourso College of Business from 1994 to 1999 and assistant professor of marketing and advertising at the University of Arkansas at Little Rock's College of Business from 1992 to 1994.
Hartline earned a doctorate in business administration from the Fogelman College of Business and Economics at the University of Memphis, and an MBA and bachelor's in marketing from Jacksonville State University in Alabama.
The College of Business is currently ranked No. 39 among business schools at public universities by U.S. News and World Report. In addition, U.S. News has ranked the college's risk management and insurance program at No. 5 among public universities, the real estate program at No. 6 among public universities, the online graduate business (non-MBA) programs at No. 4 among all universities and the online MBA program at No. 38 among public universities and No. 44 overall.
The College of Business has seven academic departments and 12 centers and institutes. It has more than 120 faculty members and approximately 70 staff members, as well as 5,640 undergraduate students, 490 graduate students and more than 60,000 alumni. Its annual budget is $30 million and its endowment is $60 million.
Hartline succeeds Caryn Beck-Dudley, who left Florida State after nine years of service to become dean of Santa Clara University's Leavey School of Business.