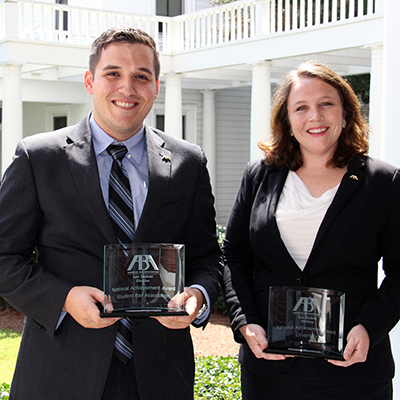 For the fifth time in seven years, the Florida State University College of Law Student Bar Association (SBA) received the Student Bar Association Award, previously known as the SBA of the Year Award, from the American Bar Association's (ABA) Law Student Division. The honor was announced Saturday, Aug. 9, at the ABA Annual Meeting in Boston. The award recognizes the efforts of an SBA organization to create a better environment for law students and a more positive image of the legal profession. Seventeen law schools from around the nation – including Boston University School of Law, Duke University School of Law and William & Mary Law School – competed for the award.
Florida State's SBA also won the Henry J. Ramsey, Jr. Diversity Award, which recognizes excellence in activities that have contributed toward the achievement and advancement of women, minorities, persons with disabilities and persons of differing sexual orientation and gender identities. This is the second time in three years that Florida State won the diversity award.
Florida State's SBA was honored following a year of many accomplishments. During the 2013-2014 academic year, SBA continued its successful distinguished lecture series – bringing notable attorneys and lawmakers to the law school – and its community service campaign. SBA's numerous service events included building a home through Habitat for Humanity, mentoring local middle school students, and raising more than $2,500 for the American Cancer Society. In addition, SBA's fifth annual Diversity Week featured sessions on balancing work and life, practicing abroad, and practicing with colleagues from various cultures and religions. SBA also was instrumental in helping the law school reach an impressive student giving rate – 84 percent of students made cash gifts to the college during the 2014 Student Annual Fund Drive.
"We are thrilled that the work of our Student Bar Association is again being lauded at the national level," said Dean Don Weidner. "Congratulations and thanks go to the entire SBA board and especially to its immediate-past president, Lindsay Kushner, for Florida State's award-winning submissions."
Florida State's incoming SBA president, Jonathan Chinchilla, and incoming SBA secretary, Kristina Torpy, accepted the award at the ABA meeting.